Forget your classic dough-based pizza, these chicken pizza naans are so quick and easy to make and taste amazing.
Topped with cheese, chicken and veggies, these are a great alternative to normal pizza and makes a delicious dinner. Opt for the healthiest version of naan bread available to keep the fat content even lower. Don't they look great?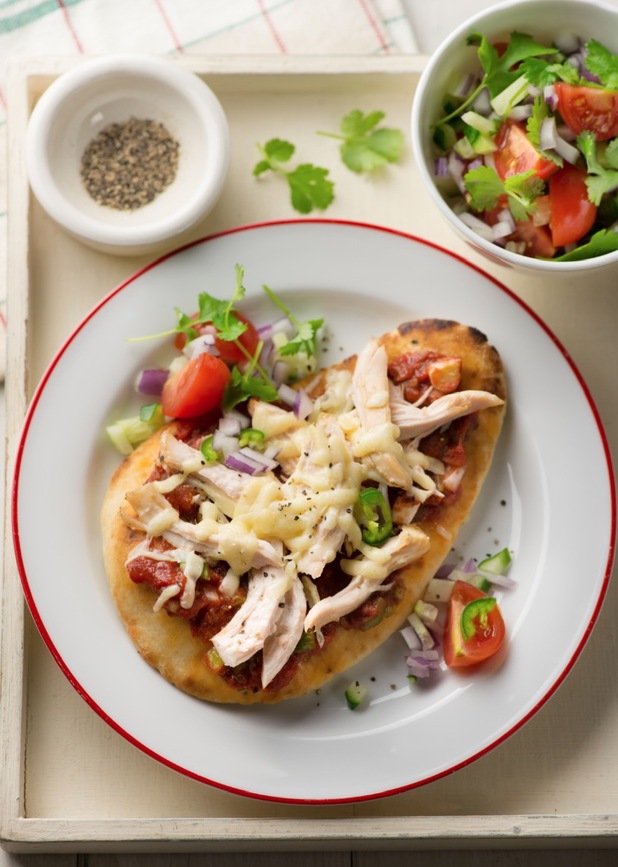 Ingredients
4 spring onions, chopped
400g can chopped tomatoes
2 teaspoon tomato puree
2 teaspoon mixed dried herbs
4 reduced fat mini naan breads
150g skinless roast chicken, sliced
50g reduced fat hard cheese, grated
For the salad:
12 cherry tomatoes, quartered
¼ cucumber, finely chopped
1 small red onion, finely chopped
1 teaspoon finely chopped green chilli
1 tablespoon chopped fresh coriander or parsley
Method
1
Preheat the oven to 200°C, fan oven 180°C, gas mark 6.
2
Put the spring onions, tomatoes, tomato puree and mixed herbs into a saucepan and cook for 5-8 minutes, stirring often, until reduced and thickened.
3
Arrange the naan breads on a baking sheet. Spread the tomato mixture over them. Add the chicken, then sprinkle the cheese on top. Bake for 5-6 minutes.
4
Meanwhile, mix together the salad ingredients. Serve with the pizzas.
Prep Time
15 minutes
Cook Time
6 minutes
Nutrition Information
Serves 4
Find out how simple food swaps can make massive benefits to your health with
Smart Swaps
Change4Life's
new campaign to help families cut saturated fat and sugar from their everyday snacks, drinks and meals
If you sign up to the website before the end of the month, you'll receive a free Smart Swapper full of healthy recipes,
money off vouchers
and fridge magnets. There is also a free app, Smart Recipes, featuring the healthy recipes
Check out these other lower fat, lower sugar recipes:
Low Fat Blueberry & Banana Muffins
250 calorie Chicken & Mushroom Casserole
Hairy Dieters' Low Calorie Doner Kebabs
Lower GI Coconut & Chocolate Layer Cake
Lower Calorie Cottage Pie by the Hairy Dieters