You can whip up this mouth-watering dessert in just three simple steps, yet with its luxurious white chocolate and rum mousse, garnished with the unusual combo of sensuous strawberries and black pepper, it looks and tastes more sophisticated to make than it really is..
This is a great recipe to top off a romantic Valentine's Day home-made dinner....or, in fact, a romantic dinner on
any
day of the year...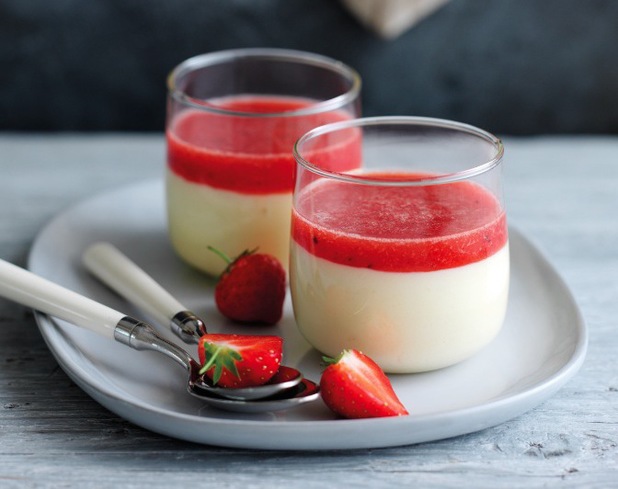 Ingredients
200g (7oz) white chocolate, broken into pieces
1 lime, grated rind only
2 eggs, separated
2 tablespoons white rum
150ml (1/4 pint) double cream
50g (2oz) caster sugar
75ml (21/2 fl oz) water
1/2 teaspoon black peppercorns, roughly crushed
225g (8oz) strawberries, hulled, sliced
½ lime, juice only.
Method
1
To make the mousse, melt the chocolate in a bowl set over a saucepan of very gently simmering water, making sure that the base of the bowl isn't touching the water.
2
Take the bowl of chocolate off the saucepan and stir in the lime rind, egg yolks and rum until smooth. Lightly whip the cream until it forms soft swirls then fold into the chocolate mix and spoon into 4 small glasses. Chill in the fridge for 3-4 hours until set.
3
Meanwhile make the sauce, add the sugar, water and pepper to a medium saucepan and heat gently, stirring until the sugar has dissolved then simmer for 3 minutes. Add the strawberries and lime juice and cook for 2 minutes then leave to cool.
4
Puree the sauce in a liquidiser or using a stick blender until smooth. Pour into a small jug and pour over the tops of the mousses just before serving. Serve on small plates with extra-halved strawberries, if liked.
Prep Time
30 minutes
Cook Time
5 minutes, chill for 3-4 hours
Nutrition Information
Serves 4
Niten Thakor
More recipes to make for your loved one:
The Most Romantic Cupcakes in the World
Heart-shaped Mini Blueberry Cheesecakes
The Ultimate Valentine's Chocolate & Berry Cake
Mary Berry's Very Best Chocolate Fudge Cake
Check out more recipes using strawberries at
seasonalberries.co.uk