Give a piece of your heart away this Valentine's Day with these fabulous heart-shaped mini blueberry cheesecakes. Don't they look gorgeous? They're the perfect dessert to serve up to impress your Valentine.
The refreshing blueberries fall lightly as a topping of the cheesecake and the cream-cheese will melt sensuously in your mouth! And these tiny blueberry cheesecakes can easily be preserved in the freezer for another time if there are any left over....(small chance!)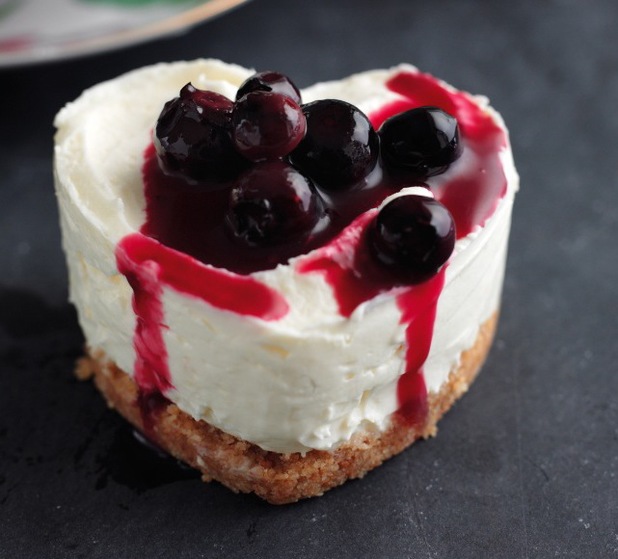 Ingredients
75g (3oz) digestive biscuits
25g (1oz) butter
2 teaspoons golden syrup
300g (11oz) full fat cream cheese
65g (21/2oz) caster sugar
1 lemon, grated rind and juice
200ml (7fl oz) double cream
1 teaspoon corn-flour
Juice of ½ lemon
2 tablespoons water
40g (11/2oz) caster sugar
200g (7oz) blueberries
Method
1
Add the biscuits to a small plastic bag, seal the top then crush the biscuits with a rolling pin. Heat the butter and golden syrup in a small saucepan until melted, stir in the biscuit crumbs and mix together. Divide between 8, 75ml (3fl oz) heart shaped sections in a flexible silicone cake mould. Press the biscuits into a thin layer with the back of a teaspoon. Chill while making the filling.
2
Add the cream cheese, caster sugar and lemon rind to a bowl and whisk together briefly until just mixed. Gradually whisk in the lemon juice and the cream until smooth and thick.
3
Spoon the cheesecake mixture into crumb lined moulds then spread into an even layer and swirl the tops with the back of a spoon. Chill for 5 hours or overnight.
4
To make the blueberry topping, add the corn-flour to a small saucepan, stir in the lemon juice and mix until smooth then add the water, sugar and blueberries. Cook over a medium heat for 2-3 minutes, stirring until the blueberries are just beginning to soften and the sauce has thickened to become a rich blueberry colour. Leave to cool, cover and chill until ready to serve.
5
To serve, loosen the edges of the heart moulds and press up from the base, removing the cheesecakes with a small spatula. Transfer to serving plates and spoon the blueberries on top.
Prep Time
25 minutes
Cook Time
4-5 minutes, chill for 5 hours
Nutrition Information
Makes 8
Niten Thakor
Other Valentine's Day recipes to win anyone's heart....
The most Romantic Cupcakes in the World
Eric Lanlard's Angel Food Cupcakes with Raspberry Frosting
Mary Berry's Very Best Chocolate Fudge Cake
Chocolate Caramel & Walnut Cupcakes
White Chocolate Chunk Caramel Cupcakes
Love berries? Click
HERE
for even more recipe inspiration.