Now, thanks to lower-fat cheese being increasingly available, these days we don't have to feel quite so guilty about eating it!
After all, it's a great source of nutrients and because there's no meat in this delicious stuffed peppers meal it's a great one to kick start your healthy eating campaign as it's packed full of goodness from the veggies.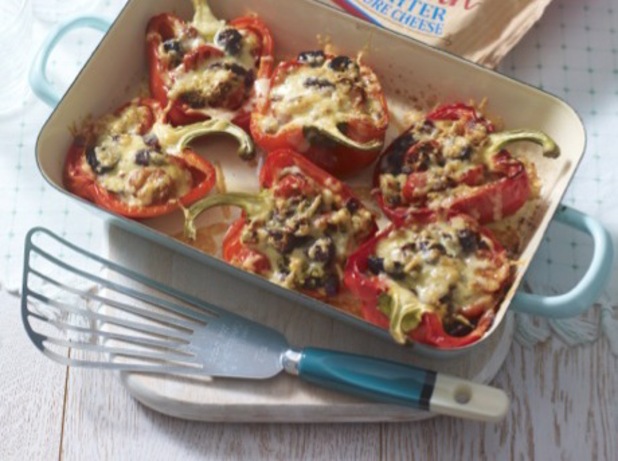 Ingredients
1 tablespoon olive oil
1 red onion, chopped
150g small cherry tomatoes, halved
16 pitted black olives, halved
2 tablespoons of pesto sauce
175g/6oz Lighter Choice Mature, grated
25g/1oz dried white breadcrumbs
4 red peppers
Method
1
Preheat the oven to 200oC/Fan 180oC/Gas Mark 6. Cut the peppers in half through the stalk and carefully remove the seeds. Place the peppers cut side up in a baking dish.
2
Heat the oil in a frying pan, add the onion and saute for 5 minutes until it is softened. Remove from the heat and stir in the tomatoes, olives, pesto, breadcrumbs and mix well. Stir in half the cheese.
3
Divide the mixture between the peppers. Cover the dish loosely with foil and bake in the centre of the oven for 20 minutes. Remove the foil, scatter over the remaining cheese and bake for a further 20 minutes until the peppers are tender and golden. Serve two per person with salad.
Prep Time
10 minutes
Cook Time
25- 30 minutes
Nutrition Information
Serves 4, 292kcal, 15.9g protein, 17.7g fat, 7.3g saturated fat, 4.2g fibre, 1.23g salt. Contains over a third of your RDA of calcium and vit C and counts for 3 of your 5-A-DAY
Niten Thakor
For more recipes using cheese check out
pilgrimschoice.com
Love cheese? We recommend these.....
Macaroni Cheese with Leeks, Cheddar, Parmesan & Pesto
Boiled Egg with Cheese Soldiers
Cheesy Cheddar Pancake Lasagne
Lancashire Red Onion & Pepper Tarts
Deliciously creamy Cheese & Onion soup