Stay warm in winter with this delicious chunky bean soup enriched with mild spices and chunky vegetables. Topped with grated cheese, it's ideal comfort food, without the high calorie count.
Spices such as paprika and cumin give depth to this low-fat soup and warm the cockles. Enjoy it served with a sprinkle of grated cheese that will melt seamlessly in your meal. Yummy!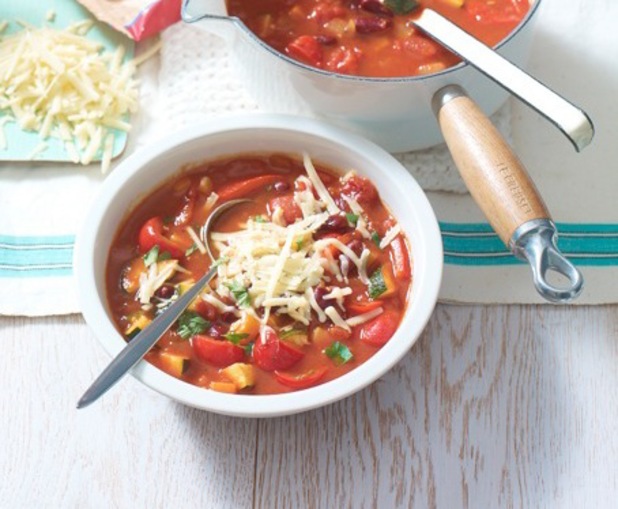 Ingredients
1 tablespoon of vegetable oil
1 onion, chopped
1 carrot, peeled and chopped
1 red pepper, deseeded and chopped
1 clove of garlic, crushed
1 tablespoon ground paprika
1 tablespoon ground cumin
¼ tablespoon chilli powder
1 (400g) can chopped tomatoes
2 tablespoon of tomato puree
750ml (1 ½ pt) vegetable stock
1 (400g) can red kidney beans, drained and rinsed
1 courgette, chopped
Salt and freshly ground black pepper
150g/5oz Lighter Choice Mature cheese, grated
2 tablespoons of chopped flat parsley
Crusty bread to serve
Method
1
Heat the oil in a large pan, add the onion, carrot and pepper and saute over a medium heat for 3 mins to soften. Add the garlic and spices and cook for 30 seconds.
2
Add the tomatoes, puree and stock, then season with salt and pepper. Cover with a lid, bring to the boil, reduce the heat and simmer for 10 mins or until the carrots feel tender.
3
Stir in the beans and courgette, then simmer for a further 5 mins. Adjust the seasoning to taste.
4
Divide the soup between four bowls, heap cheese into the centre of each and scatter over the parsley. Serve with crusty bread.
Prep Time
5 minutes
Cook Time
18 minutes
Nutrition Information
Serves 4
Per portion: 289kcal, 18.5g protein, 13.7g fat, 5.6g saturated fat, 7.7g fibre, 1.7g salt.
Niten Thakor
Check out more family friendly cheese recipes at
pilgrimschoice.com
More delicious soup recipes at
reveal.co.uk
Fabulous Baker Brothers' Thai Tom Kha soup
Creamy Celery Soup with Stilton
Celery, Smoked Haddock & Sweetcorn Chowder
Gennaro Contaldo's Minestrone