Goodbye boring diet, hello fat-free cupcakes! You no longer need to feel too guilty about indulging in cupcakes thanks to this fat-free recipe for delicious Angel Food Cupcakes with Raspberry Frosting from expert pâtissier and TV chef Eric Lanlard.
Eric, star of Channel 4's
Baking Mad
and owner of London's
Cake Boy
patisserie, has a host of A List clients, including Madonna and Sir Elton John.
Despite being fat-free, these cupcakes still taste amazing and are bursting with flavour, thanks to the addition of vanilla and almond extracts.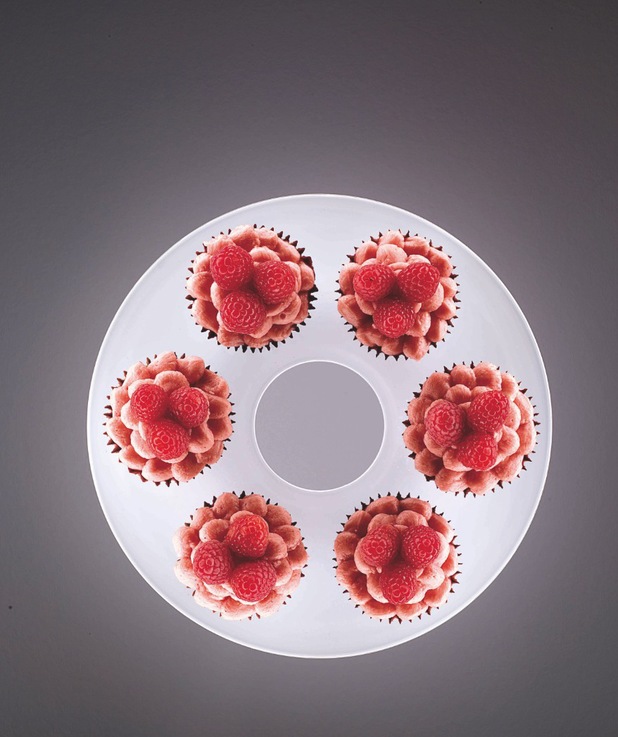 Ingredients
115g of plain flour
85g icing sugar
1 tablespoon of cream of tartar
8 egg whites
1 pinch of salt
150g of golden caster sugar
½ tablespoon of Nielsen- Massey Vanilla Extract
½ tablespoon of Nielsen- Massey Almond Extract
For the raspberry frosting:
100g fresh raspberries
125g unsalted butter, softened and diced
225g icing sugar
Method
1
Preheat the oven to 200 oC/ gas mark 6 and line a cupcake tin with paper cases.
2
Sift the flour, icing sugar and cream of tartar into a bowl and set aside.
3
In a large bowl whisk the egg whites until frothy. Add the salt and gradually add the golden caster sugar a tablespoon at a time. Whisk until stiff peaks form.
4
Stir in the vanilla extract and almond extract, and then add the flour and icing sugar mixture. Fold gently with a large metal spoon until combined. It is important to do this quickly- if the mixture is left to stand, it will collapse and spoil the light consistency of the cake.
5
Divide the mixture between the paper cases and bake for 15-20 minutes. Leave to cool for 5 minutes, then transfer to a wire rack and allow to cool completely.
6
To make the frosting; rub the raspberries through a fine-meshed sieve to yield about 2 tablespoons of raspberry puree. Add the butter to a clean bowl and cream until soft. Sift some of the icing sugar over the top, then beat to combine.
7
Repeat this process until all the sugar has been incorporated into the butter. Then beat in the raspberry puree to give a spreading consistency.
8
Using a piping bag with a plain nozzle, pipe the frosting and decorate with fresh raspberries and a dusting of icing sugar.
Prep Time
15-20 minutes
Cook Time
15-20 minutes
Nutrition Information
Makes 12
Niten Thakor
Like these? Don't miss these....
Eric Lanlard's Chocolate & Raspberry Tart
Low-fat Blueberry & Banana Muffins
Paul A Young's Muscovado Chocolate Cakes
Mary Berry's Very Best Chocolate Fudge Cake