If you are looking for a healthy alternative to the usual fattening US-style muffin, then look no further than this delicious blueberry and banana version.
It's a recipe from the new Change4Life campaign,
Smart Swaps,
which aims to help everyone cut sugar and saturated fat from their everyday snacks, drinks and meals. Sounds good to us!
This blueberry and banana muffin is a great example of using clever food swaps to cut calories and fat without compromising on flavour.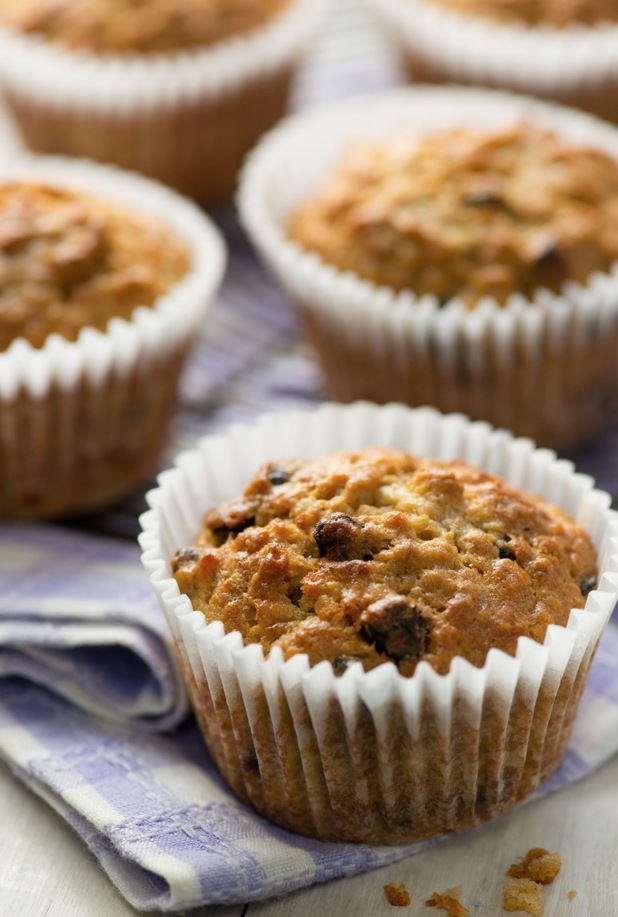 Ingredients
125g low fat spread, melted and cooled slightly
2 tablespoons skimmed milk
1 teaspoon vanilla extract
2 large eggs, beaten
100g self-raising flour
1 teaspoon ground mixed spice
50g light muscovado or light brown sugar
75g dried blueberries
75g porridge oats
1 ripe banana, mashed
50g unsweetened apple puree
Method
1
Preheat the oven to 180C/ fan oven 160c/gas mark 4. Line a muffin tin with 8 paper muffin cases or squares of baking paper.
2
Mix together the cooled low fat spread, milk, vanilla extract and eggs. In a separate large mixing bowl, combine the flour, mixed spice, sugar, blueberries and porridge oats.
3
Stir the wet ingredients into the dry ingredients with the mashed banana and apple puree, taking care that you don't over-mix. Spoon the mixture into the muffin cases.
4
Bake for 25-30 minutes, until firm and golden. Cool on a wire rack.
Prep Time
20 minutes
Cook Time
25 minutes
Nutrition Information
Makes 8
Did you know that, by making just one easy change – like swapping sugary drinks to sugar-free or diet drinks, milk or water – an average UK family could save up to three quarters of a bag of sugar over four weeks?
And, if you sign up to the
Smart Swaps
campaign you'll receive a free Smart Swapper full of healthier swap and meal ideas, money off vouchers and fridge magnets as well as supportive emails and texts throughout the month. A free Smart Recipes app is also available with tasty, quick and healthier meal ideas, which can be downloaded from iTunes and GooglePlay.
More low fat recipes:
Lower Fat Moussaka
Vegetarian "Chicken" Tikka
Raspberry Cupcake Kisses
Low Fat Chicken & Mushroom Casserole