Forget the January blues - this is sunshine on a plate! These deliciously simple Boiled Egg with Cheese Soldiers recipe is a delightful twist on a classic breakfast recipe.
Serving up these sunny-looking eggs and cheesy soldiers will brighten up any morning and provide you with a great source of protein, calcium, vitamin A and vitamin E.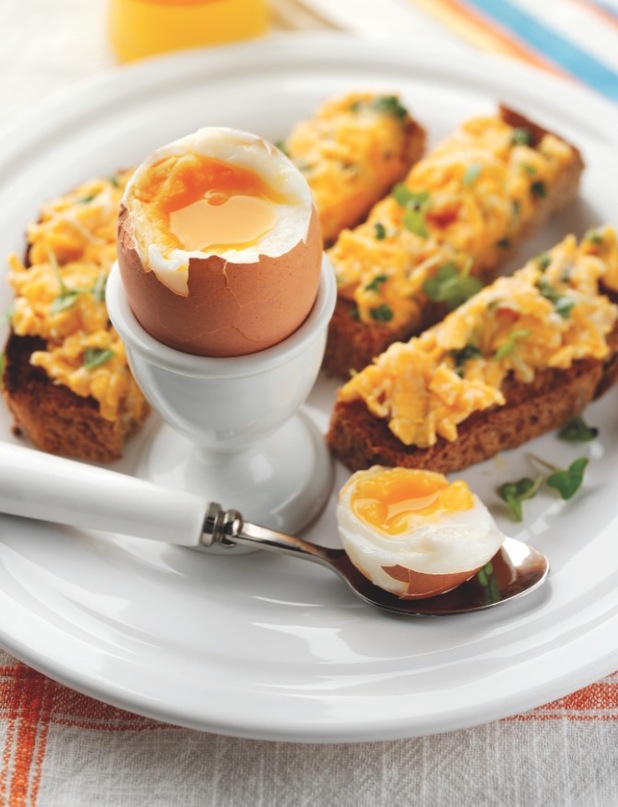 Ingredients
2 large eggs
25g hard cheese e.g. Red Leicester, grated
1 tbsp low fat mayonnaise
½ punnet cress
2 slices wholemeal farmhouse bread, toasted
Method
1
Place the eggs in a small saucepan and cover with cold water. Bring to the boil and simmer for 3 minutes for soft centres.
2
Meanwhile, mix the cheese, mayonnaise and cress, reserving a little to sprinkle over. Spread over the toast and cut into soldiers.
3
Serve with the boiled eggs.
Prep Time
5 minutes
Cook Time
3-4 minutes
Nutrition Information
Serves 2
Cook's Tip
Try scooping out the egg and spreading it on top of the cheese for a quick sandwich.
What's YOUR favourite breakfast? Research shows that eating breakfast makes you happier, healthier and gives you more energy for the day ahead - it can even help you to maintain a healthy weight!
Vote for your favourite at
shakeyourwakeup.com
and the winner will be announced during
Farmhouse Breakfast Week
between 26 January and 1 February 2014.
Check out more tasty breakfasts here:
Breakfast Pancakes with Crispy Bacon & Syrup
Avocado Cheese on Toast
Bubble & Squeak Pancakes
Spanish-style Eggs
Posh Porridge