After the amount of cheese, wine and chocolate we've eaten over Christmas, it's time for a serious health kick this January!
If you're looking for a totally delish dinner that's low in calories, then try out this mushroom and chicken casserole. It takes minutes to cook and is just 250 calories per serving!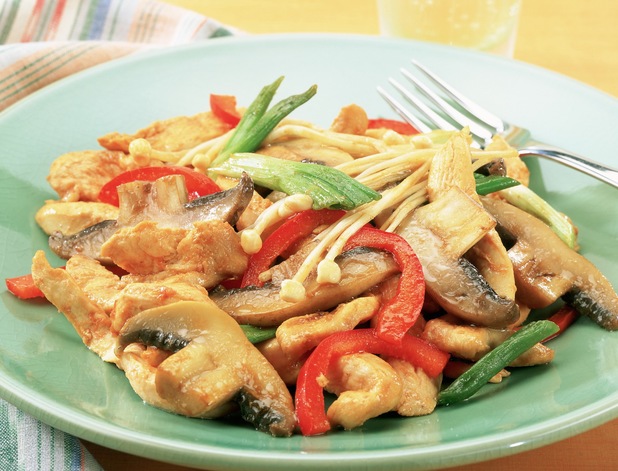 Mushrooms are great for dieters and anyone interested in healthy eating as they are low in fat and calories. Also, they are inexpensive and readily available. Try substituting mushrooms for meat in your dishes and watch the calorie count tumble.
That's the principle this recipe works on - although there is chicken in it too.
Ingredients
1 tablespoon olive oil
1 onion, chopped
4 boneless, skinless chicken thighs – about 250g/9oz in total
1 clove garlic, finely chopped
Half green pepper, deseeded, diced
Half red pepper, deseeded, diced
Half yellow pepper, deseeded, diced
500g/1lbs 2oz closed cup mushrooms
1 tablespoon plain flour
1 tablespoon fresh chopped rosemary or one quarter teaspoon dried
300ml chicken stock
Salt and freshly ground black pepper
Method
1
Heat the oil in a frying pan, add the onion and fry for 5 minutes, stirring until softened.
2
Add in the chicken and garlic and fry for 5 more minutes, stirring until the chicken is lightly browned.
3
Mix in the peppers and whole mushrooms and fry for 3 minutes, stirring, then mix in the flour. Add the rosemary and stock, season and bring to the boil.
4
Transfer to a casserole dish, cover and cook in a preheated oven set to 180C/350F/gas mark 4.
5
Cook for 45 minutes until the chicken is tender. Serve with rice or mashed potato.
Prep Time
10 minutes
Cook Time
58 minutes
Nutrition Information
250 calories per serving
Check out these healthier versions of family favourites
Posh Porridge
Lower Calorie Doner Kebabs by The Hairy Bikers
The Fabulous Baker Brothers' Vegetarian Scotch Eggs
Lower Calorie Cottage Pie by The Hairy Bikers