Making your own roast ham is a Christmas ritual in some homes, so here's a fabulous traditional recipe for home made honey roast ham from celebrity chef, Rosemary Shrager.
Follow these instructions to achieve perfectly cooked and delicious honey roast ham. There's also a recipe for Cumberland Sauce, a delicious accompaniment.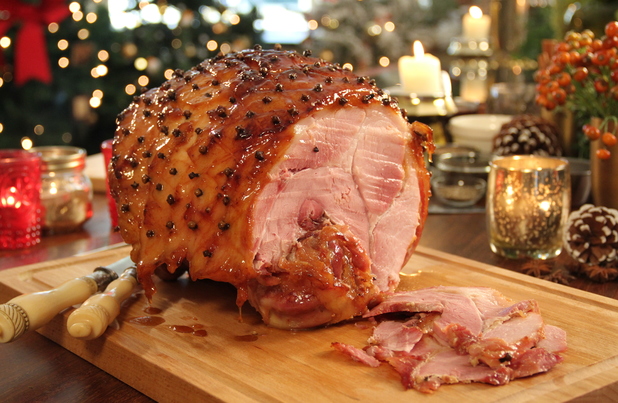 Ingredients
6kg Gammon
2 onions
2 carrots
4 bay leaves
3 star anise
1 tablespoon of black peppercorns
1 tablespoon of coriander seeds
Few strings of parsley
Few sticks of celery
For the glaze:
Approximately 150 cloves
450g soft dark brown sugar
300ml thick runny honey
1 tablespoon Dijon mustard
For the Cumberland sauce:
75g very finely chopped onions
2 tablespoons malt vinegar
One zest and juice of one lemon
One zest and juice of one orange
220g redcurrant jam
150g port
1 tablespoon of English powdered mustard made up
1 dessert spoon of sugar
Method
1
Place pork in a very large saucepan and cover with cold water. Add to the cold water 2 peeled onions, 4 sticks of celery, 3 star anise, 4 carrots, 1 tablespoon of coriander seeds, 1 tablespoon of black pepper corns and sprigs of parsley.
2
Bring up the simmer and cook for 3 hours approximately, allow 20 minutes per 500g. You can tell when the ham is cooked when the ring starts coming off easily.
3
Remove the ham from the saucepan and allow to rest for one hour.
4
Remove all the rind while the ham is still warm, leaving as much fat on as possible.
5
Score the fat into diamond shapes by cutting a long line one way then the other way. Place a clove into each diamond corner.
6
Mix 350g brown sugar, 200ml thick honey, 1 tablespoon Dijon mustard and use a pastry brush to spread the mixture all over the ham.
7
Bake in a pre-heated oven set at 180C/gas mark 4 for 25 minutes approximately or until caramelised. You will need to baste the ham every ten minutes to get a good colour.
8
Serve hot or cold with Cumberland sauce (see recipe below).
Cumberland sauce:
1
Place all the ingredients into a pan and bring to the boil.
2
Simmer for one hour approximately on a low heat until a sticky sauce is thickened and ready to go. You do not need to strain the sauce.
Check out more delicious recipes from Rosemary Shrager on
foodnetwork.co.uk
Try out more Christmas recipes:
Yule log with a twist of Guinness
Mary Berry's Easy Turkey
Last Minute Christmas Cake
Christmas Trifle Cupcakes