If you're looking for the ultimate spoil-yourself Christmas salad then this fig, orange and walnut salad with melted blue cheese dressing is the one for you, courtesy of our friends at britishcheese.com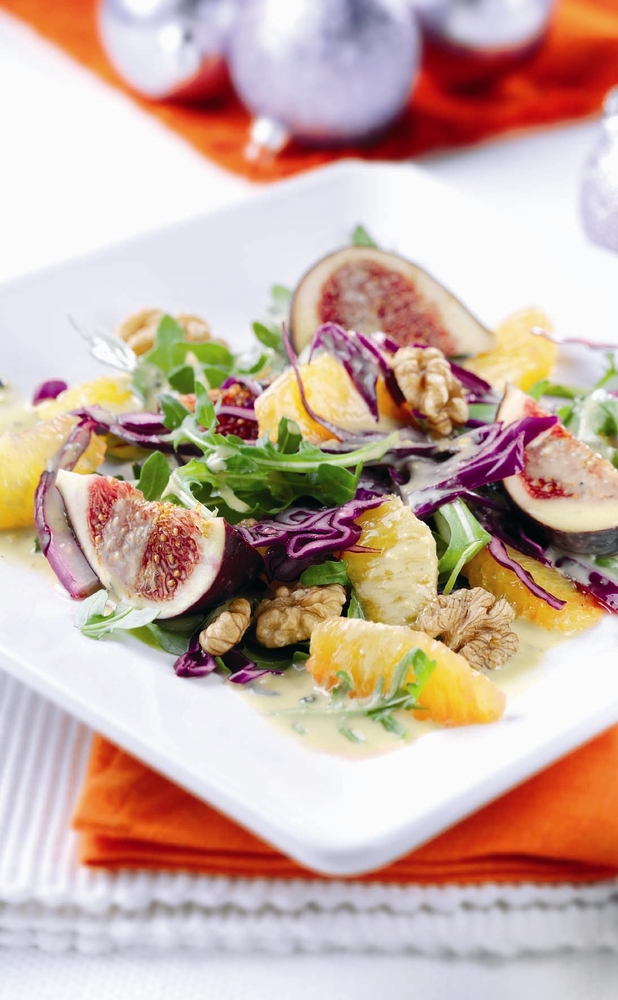 Deliciously decadent, its rich colours will look amazing on your dining table while its combo of blue cheese, figs and nuts adds the flavours and textures of the festive season.
Ingredients
3 oranges
4 fresh figs
150g (5oz) toasted walnuts nuts
150g (5oz) red cabbage, shredded finely
175g (6oz) rocket
For the dressing:
150g (5oz) Shropshire Blue cheese
200ml (7floz) crème fraiche
Freshly ground black pepper
Method
1
First, prepare the dressing. Crumble the Shropshire Blue into a small heavy based pan and cook, stirring, over a gentle heat until the cheese melts.
2
Whisk in the crème fraiche and heat gently (don't allow mixture to bubble) until you have a smooth creamy dressing. Leave it to cool as you want it cooled down before putting on the salad.
3
Now assemble the salad. Slice the top and bottom off each orange and peel down the sides with a sharp knife. Cut between each membrane to remove the orange segments.
Place in a bowl with any juices.
4
Wipe and quarter the figs and add to the orange segments with the toasted walnuts (or pecans if you prefer), shredded red cabbage and rocket leaves.
5
Toss together well and divide between 4 serving plates. Drizzle the dressing over each plate of salad and season with freshly ground black pepper.
Nutrition Information
Serves 4
Love cheese? Don't miss these....
Stilton Asparagus & Cherry Tomato Tagiatelle
Plaice fillets with Leek & Cheddar topping
British Cheesecake with warm Blueberries & Wensleydale
Cheesy Cotswold Cottage Pie