These super cute bite-size pies are great for festive parties and will go down a treat with any guests this Christmas.
It combines chicken, pea and pickled onions in a delicious, golden pastry, but you could swap the chicken for turkey to use up your leftovers. Serve warm or cold for a lovely festive snack.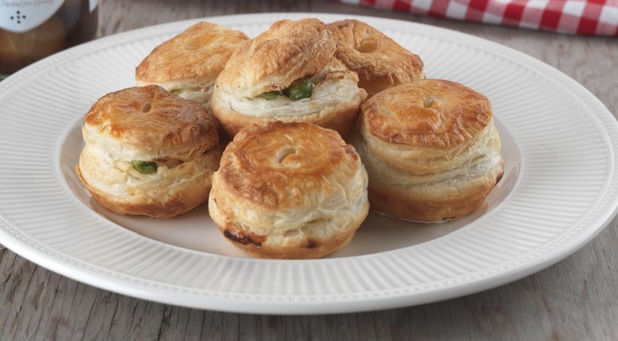 Ingredients
225g puff pastry (half a standard packet)
160g cooked chicken
40g frozen peas – defrosted
3 Garner's Original Pickled Onions, chopped finely
Freshly milled salt & pepper
1 beaten egg
3-4 tablespoons half fat crème fraiche
Method
1
Preheat the oven to 200C/gas 7. Lightly grease 6 moulds in a muffin tray.
2
Roll pastry on a lightly floured board and cut 12 circles (6 larger for base to fit in tray and 6 smaller for the tops).
3
Place each larger circle neatly into a muffin tray space and brush the beaten egg over them.
4
Chop chicken into bite size pieced and place in a bowl along with pickled onions and peas.
5
Fold in 3-4 tablespoons of crème fraiche into the chicken mixture.
6
Season the mixture and divide to fill each pastry cup. Place the lids on top and crimp together the edges.
7
Brush the pie tops with the egg glaze and bake for 8-10 minutes until the pastry is crisp and golden.
Prep Time
30 minutes
Cook Time
8-10 minutes
Nutrition Information
Makes 6
Serve these other recipes at your festive celebrations:
Strawberry Caipirinha
Mini Sausage & Apple Bakewells
Christmas Trifle Cupcakes
Caramelised Red Onion & Goat's Cheese Sausage Rolls