Stuck with a load of leftover sprouts from Christmas dinner?
Get inventive and use them up with this cracking recipe for Crostini with Pancetta, Sprouts and Peas in a Clotted Cream and Blue Cheese Sauce that's perfect for tucking in to on Boxing Day.
Take your pre-cooked sprouts and serve them with yummy ingredients like Cornish Blue Cheese, onions and pancetta on a tasty slice of crostini.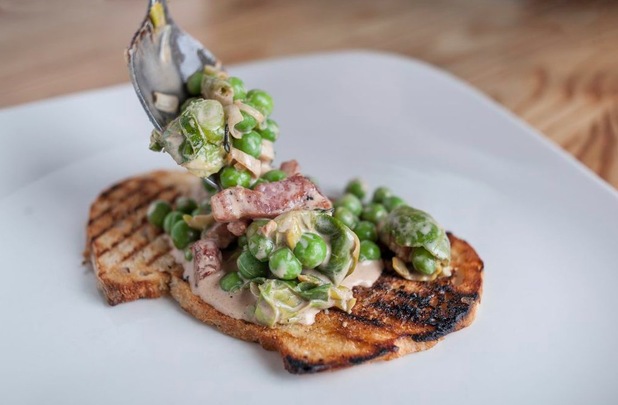 This works well as a light snack or impressive starter - doesn't it look great?
Ingredients
Sourdough loaf (you can use Ciabatta bread if you prefer)
100g diced pancetta
6 Brussel sprouts
1 bunch spring onions
100g Cornish Blue cheese
100g Watercress
3 tablespoons frozen peas
2 tablespoons Trewithen clotted cream
Method
1
Thinly slice the sourdough, lightly brush with oil, season, and griddle until crisp.
2
Fry the pancetta in olive oil until crisp and remove to a plate.
3
Add spring onions, peas and clotted cream to the saucepan and bring to the boil.
4
Cut the base off the Brussel sprouts and peel off each leaf. Add the pancetta and sprout shells. Turn off the heat and gently fold in the diced blue cheese.
5
Spoon onto your crisp sourdough with a little sauce. Then garnish with watercress to serve.
Prep Time
10 minutes
Cook Time
15 minutes (using pre-cooked Brussel sprouts)
Nutrition Information
Makes 6
Click
HERE
for more recipes from Trewithen Dairy.
Like this? Check out these....
Mary Berry's Fresh Salmon & Dill Terrines
Rudolph red Velvet Cupcakes
Christmas Trifle Cupcakes
Christmas Mulled Cider