We're big fans of her skincare range, so we couldn't wait to try this personal recipe from beauty guru Liz Earle for mulled wine.
Spices such as cinnamon, cloves and star anise are included, which are all great for boosting the antioxidants that help to fight infections and diseases. Serve this winter warmer to friends and family for a festive treat.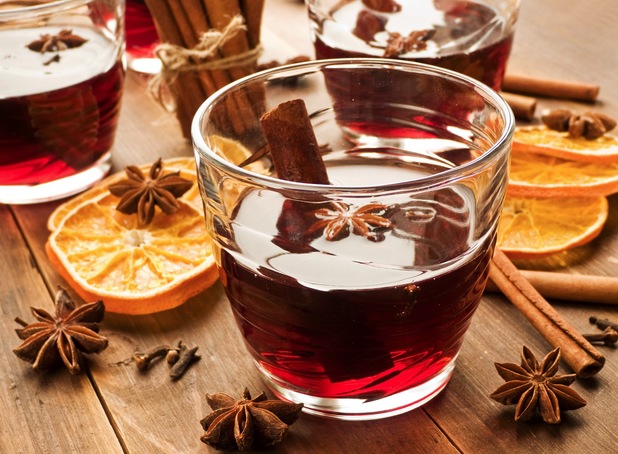 Ingredients
2 oranges, organic (or well scrubbed)
Peel of 1 lemon (organic, un-waxed or well scrubbed)
100g caster sugar
A generous pinch of freshly grated nutmeg
3 sticks cinnamon
6 cloves, plus extra for garnish
2 fresh bay leaves
2 bottles of fruity inexpensive red wine, preferably organic
500 ml water
5 star anise
Method
1
Peel and juice one orange into a large saucepan along with the lemon peel, sugar and all the spices apart from the star anise.
2
Add just enough water or a little wine to cover the sugar, then simmer gently until the sugar has dissolved.
3
Bring to boil for a few minutes to infuse the spices until you have a sticky syrup.
4
Then add the bottles of wine and star anise to the pan and heat gently until warm. Be careful not to let the mulled wine boil at this stage otherwise the alcohol will burn off.
5
Ladle into glasses and decorate with a wedge of orange (studded with a few extra cloves if you wish).
Prep Time
10 minutes
Cook Time
25 minutes
More Christmas recipes:
Mary Berry's Apricot & Chestnut Stuffing
Mini Sausage & Apple Bakewells
Christmas Chocolate Brownies
Rudolph Red Velvet Cupcakes
Celebrities meet Santa in Reveal's festive gallery below!
Copyright: Instagram ritaora