Christmas is one of the busiest times of the year, so this tasty cheat's Christmas cake is the perfect recipe for busy wannabe Mary Berrys.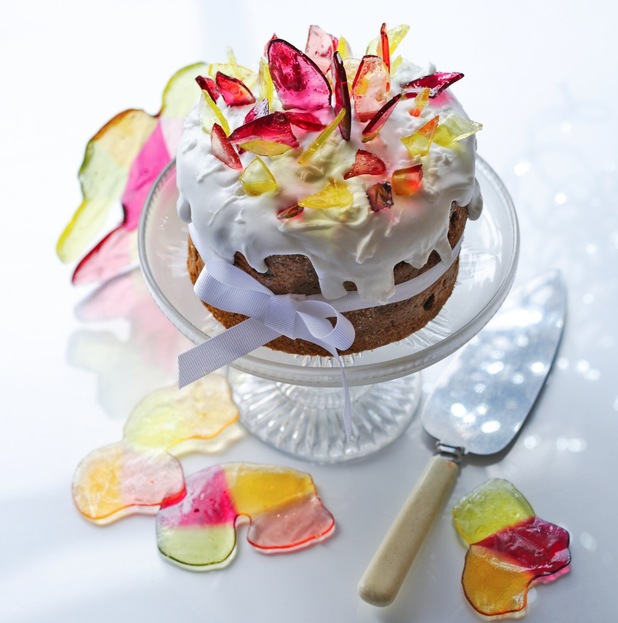 Doesn't it look amazing? A fine centrepiece for Christmas tables.
And the best thing, it takes just 30 minutes to put together and 10 minutes to bake, making it one of the easiest festive cake recipes ever!
Merry Christmas, everyone.
Ingredients
1 shop-bought rich fruit cake
Vegetable oil
150g boiled fruit sweets
500g Tate & Lyle Royal Icing Sugar, sifted
5 tablespoons of water
Edible glitter
Method
1
Preheat to oven to 180C/350F/gas mark 4. Put the cake on a board and wrap some ribbon around the edge of the cake.
2
Line on a baking sheet with foil and brush lightly with oil. Unwrap the boiled sweets and put them on the baking sheet.
3
Cook in the oven for 10 minutes until they have melted and run into each other. Leave to cool on the foil, then lift off and snip and pieces into shards.
4
Mix the icing sugar and water together and whisk for 10 minutes.
5
Using a small palette knife, spread the icing over the top of the cake, flicking it into small peaks as you go. Then tease the edges down the sides to form icicles.
6
While the icing is still soft, push the coloured sugar shards into the icing. Leave the cake to dry, sprinkle with edible glitter and serve.
Prep Time
30 minutes
Cook Time
10 minutes
Nutrition Information
Serves 8
Make these other sweet treats for Christmas:
Vanilla Stars
Christmas Chocolate Brownies
Rudolph Red Velvet Cupcakes
Christmas Trifle Cupcakes