Get in to the Christmas spirit with these adorable Rudolph red velvet cupcakes.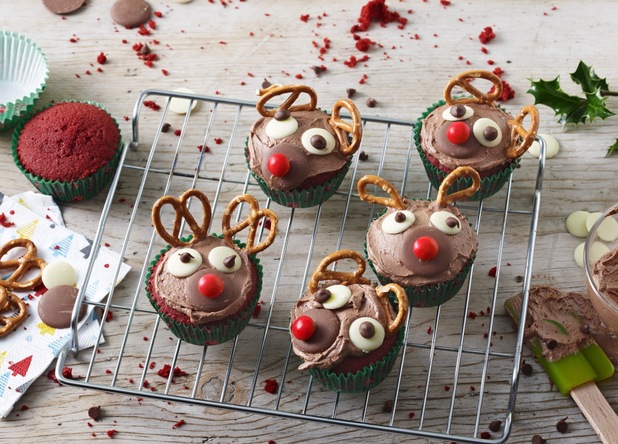 Complete with cute reindeer faces, these tasty cupcakes are the perfect treat to serve up over the festive period. Plus, they are hassle free to make, giving you more time to relax with a glass of mulled wine......
Ingredients
Ingredients:
115g Flora Buttery
115g caster sugar
2 eggs, medium
115g self-raising flour
15g cocoa powder
30ml red food colouring (gel is best)
Icing:
55g Flora Buttery
225g icing sugar, sieved
1-2 tablespoons milk
25g cocoa powder
Decoration:
White chocolate buttons and plain chocolate drops
Pretzels
Red sweets
Method
1
Preheat oven to 180C/160F/gas 4.
2
Weigh your eggs. Note the weight and measure the same amount of butter, sugar and flour. Place all the ingredients in a mixing bowl and beat with a wooden spoon for 2-3 minutes until well mixed.
3
Place dessertspoons of the mixture in 10 paper cases or greased bun tins. Bake for around 20 minutes until soft and springy to touch. Cool on a wire tray.
4
Mix icing ingredients together and spread over the cakes. Decorate using pretzels for antlers, chocolate buttons and drops for eyes and red sweets for the nose.
Prep Time
15 minutes
Cook Time
20 minutes
Nutrition Information
Makes 10
Try these other tasty festive recipes:
Christmas Trifle Cupcakes
Mulled Cider
Christmas Rum & Raisin Chocolate Ice Cream Pudding
Sugar Free Mince Pies