Who can resist a delicious brownie? If you fancy making them extra special for the festive season, then try out this delicious and easy-to-make Christmas brownie recipe.
It uses dried cherries, along with plenty of chocolate and brown sugar, creating a sweet treat that's simply irresistible.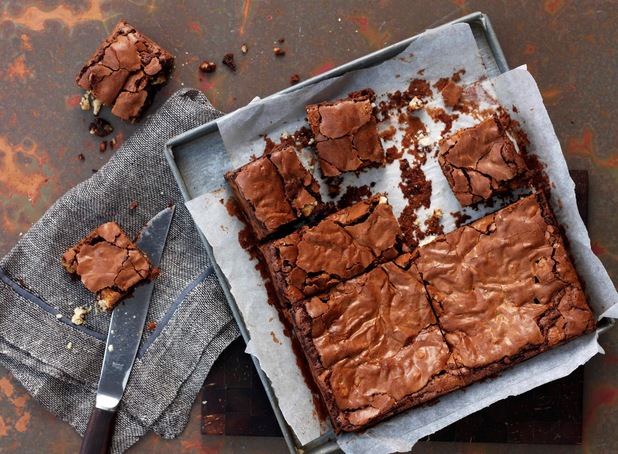 Ingredients
100g Jordans Country Crisp Chocolate
150g dark chocolate, preferably 70% cocoa, broken into pieces
125g unsalted butter
2 large eggs
150g soft dark brown sugar
1 teaspoon vanilla extract
50g plain flour
1 teaspoon baking powder
75g dried cherries
Method
1
Preheat the oven to 180C/fan 160/gas mark 4. Line a 20cm (8 inch) square baking tin with non-stick baking parchment.
2
Melt the chocolate and butter together in a heatproof bowl set over a pan of barely simmering water. Stir occasionally until melted. Then remove from the heat and cool for a few minutes.
3
In a large bowl, whisk together the eggs and sugar, using an electric hand whisk, until light and doubled in volume. This will take about 4-5 minutes on full power.
4
Stir in the vanilla extract and melted chocolate mixture. Sift in the flour and baking powder and fold in gently.
5
Fold in the cherries and crisp chocolate. Pour into the prepared tin and smooth the surface with a spoon.
6
Bake for about 35 minutes, until the chocolate brownie is set and no longer wobbles when the tin is shaken slightly (it will be quite sticky, but till firm up once cooled).
7
Leave to cool completely in the tin before cutting into bars.
Prep Time
15 minutes
Cook Time
35 minutes
Nutrition Information
Makes 18
Try these other Christmas recipes:
Mulled Cider
Turkey & Stuffing Pie
Sultana Cupcakes With Brandy Butter Frosting
Christmas Pudding Marshmallows