Creamy mushrooms. Bacon. And Pasta. All put together by Celebrity Masterchef winner Nadia Sawalha. Well, you can't go wrong, can you?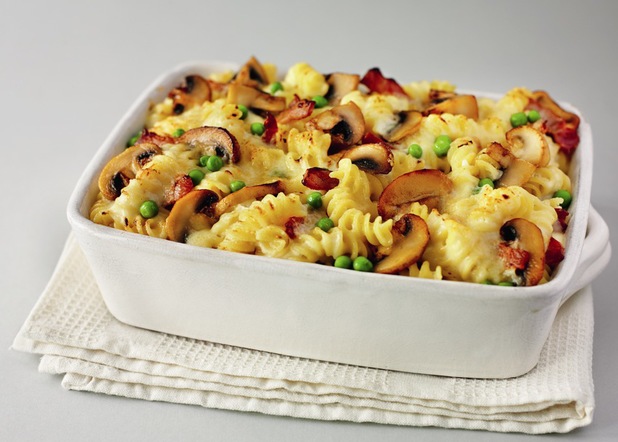 Nadia's on a mission to show us how to get the best out of mushrooms.
She says they're a great addition to any dish. Not only that, they're counted as one of your five-a-day and are rich in vitamin B5, which is great for reducing tiredness.
What we like about this recipe is that it takes pretty simple ingredients and turns them into something special, wwithout too much fuss. A great filling meal for these cold winter nights.
Ingredients
500g bag fusilli pasta
300g closed cup mushrooms
150g fresh or frozen peas
200g chopped bacon
150g grated cheddar
50g butter
500ml milk
50g plain flour
Method
1
Cook the pasta and peas according to pack instructions and set aside. Preheat the oven to 200C/180F/gas 6.
2
Fry the mushrooms with a knob of butter for two minutes and spoon onto a plate. Then fry the chopped bacon for a further for minutes and leave to one side.
3
Melt the remaining butter in the saucepan, stir in the flour and gradually add milk. Increase heat and bubble until the sauce thickens. Stir in most of the cheese.
4
Tip the pasta, mushrooms and bacon into a large ovenproof dish. Pour over the sauce and mix with peas. Top the remaining cheese and bake for ten minutes until golden brown.
Prep Time
20 minutes
Cook Time
10 minutes
Nutrition Information
Serves 4
Experiment with mushrooms with these other great recipes:
Roast Breast Of Chicken With Mushroom Sauce
Pork, Spinach & Mushroom Risotto
Vegetarian Scotch Eggs
Speedy Chicken & Vegetable Pot Pies