Meatballs are the ultimate warming dinner to enjoy with the family on a cold winter evening. If you fancy jazzing up this classic dish, then how about trying this recipe from former MasterChef winner, Lisa Faulkner?
Swapping the standard Italian ingredients for something a bit spicier, it uses ginger, chili and star anise to create a twist on this family-favourite.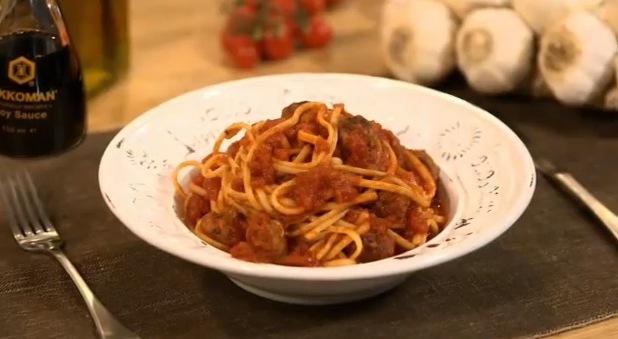 Ingredients
4 spring onions, roughly chopped
Thumb-sized piece ginger, peeled and grated
400g pork mince
Pinch chilli flakes
2 teaspoon soy sauce
75g dry white breadcrumbs
1 egg yolk
For the sauce:
Olive oil
1 onion, peeled and finely chopped
2 cloves garlic, peeled and crushed
1 tablespoon tomato puree
2 star anise
2 tins chopped tomatoes
2 teaspoons soy sauce
Pinch sugar
To serve:
300g dried linguine
Method
1
Blitz the spring onions and ginger in a food processor until finely chopped, then add the remaining ingredients. Pulse until combined and tip into a large bowl.
2
Shape the mixture into marble-sized meatballs. Cover and refrigerate for 30 minutes.
3
Meanwhile make the sauce. Heat a little olive oil in a large heavy based pan, add the onions and fry for 5 minutes until soft. Add the garlic and star anise and fry for a further 2 minutes.
4
Add the tomato puree, tomatoes, soy sauce and sugar and simmer for 20 minutes until thickened.
5
When the sauce is nearly ready, heat a little olive oil in a deep frying pan. Add the meatballs and fry for 5 minutes until golden brown all over.
6
When the sauce is ready, pour it over the meatballs and cook for a further 10 minutes.
7
During this time, bring a large pan of salted water to the boil. Add the pasta and cook for 7-8 minutes until al dente. Drain and reserve a little of the cooking water.
8
Add the cooked pasta and a ladleful of the cooking water to the meatballs and sauce and toss to coat. Serve with a crisp green salad.
Prep Time
30 minutes
Cook Time
40 minutes
Nutrition Information
Serves 4
Watch Lisa Faulkner make this yummy dish:Treat the family to these other fab dinner dishes:
Braised Beef & Pumpkin Stew
Thai Style Prawn & Peanut Noodles
Tandoori Style Salmon
Beef Wellington