We're huge fans of the Great British Banger here at Reveal Towers, so we just had to pass on this simple, no fuss sausage casserole recipe.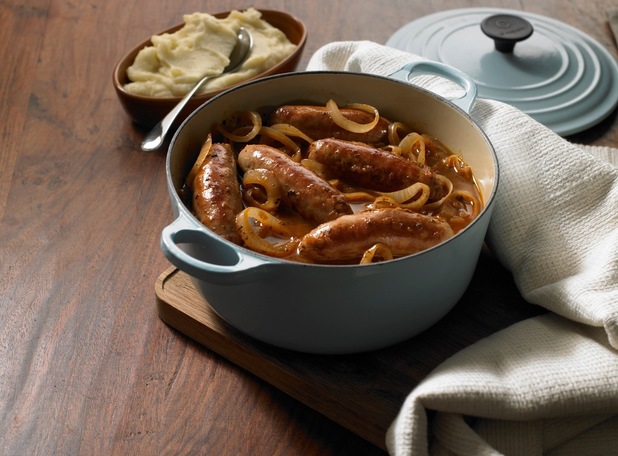 It takes just 15 minutes to prepare, this is a great supper to put together after a long day at work. Serve with creamy mashed potato for a great winter warmer.
Ingredients
8 good quality sausages
1 medium onion, sliced
200ml water
1 jar of Very Lazy Posh Sausage Casserole cooking concentrate
(Increase to 300ml water to give more sauce)
Method
1
Preheat the oven to 180C/160C/gas 4.
2
Heat a little oil in a non stick pan and fry the sausages and transfer to 1.5 – 2 litre ovenproof casserole dish.
3
Add onions and jar of the casserole cooking concentrate to the pan and cook for 2 minutes.
4
Add water and stir through.
5
Bring to a summer then pour over the sausages and cook in the oven for 1 hour.
6
When ready, served with creamy mashed potato and fresh vegetables.
Prep Time
15 minutes
Cook Time
1 hour
Nutrition Information
Serves 4
Make these other sausage recipes:
Sausage Pasties
Sausage & Squeak Brunch
Sausages & Irish Colcannon
Red Onion & Goats Cheese Sausage Rolls