These super cute sausage bakewells are great for festive parties.
We love the flavour combination of sausage, apple, cheese and pastry. Yum. Naughty - but nice!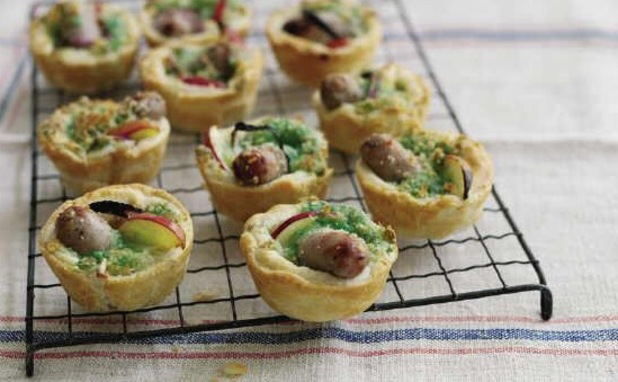 Ingredients
225g Lincolnshire chipolata sausages, squeezed in half, twisted and cut to make each sausage into two
500g puff pastry
English Provender Bramley Apple Sauce with Calvados
1 eating apple, cored and sliced
1 small onion, peeled and thinly sliced
30g Sage Derby cheese or Cheddar, grated
30g breadcrumbs
Method
1
Preheat the oven to gas 6/200C/400F.
2
Roll out the pastry and cut into circles to fit muffin tin.
3
Push pastry into greased tin. Add to the base 2.5ml (1/2 teaspoon) apple sauce, top with a small sausage and slice of apple and onion.
4
Mix together cheese and breadcrumbs and sprinkle a spoonful on top of each tart.
5
Bake for about 25 minutes until pastry is "puffed" and golden and sausage browned and cooked.
Prep Time
15 minutes
Cook Time
25 minutes
Nutrition Information
Makes 12 tarts
Discover more tasty ways to eat pork at
lovepork.co.uk
More Reveal recipes to make your party rock....
Caramelised Red Onion Chutney & Goat's Cheese Sausage Rolls
Herb Roasted Jersey Royals
Popcorn Toffee Apples
Raspberry Cheesecake Brownies