This dish swaps traditional cannelloni pasta for aubergine, creating a lighter take on this Italian classic.
Created by celebrity TV chef
Aldo Zilli
, it stuffs the aubergines with a delicious filling of ricotta cheese and basil. Finished with a juicy tomato sauce, this is one dish you'll want to serve up again and again.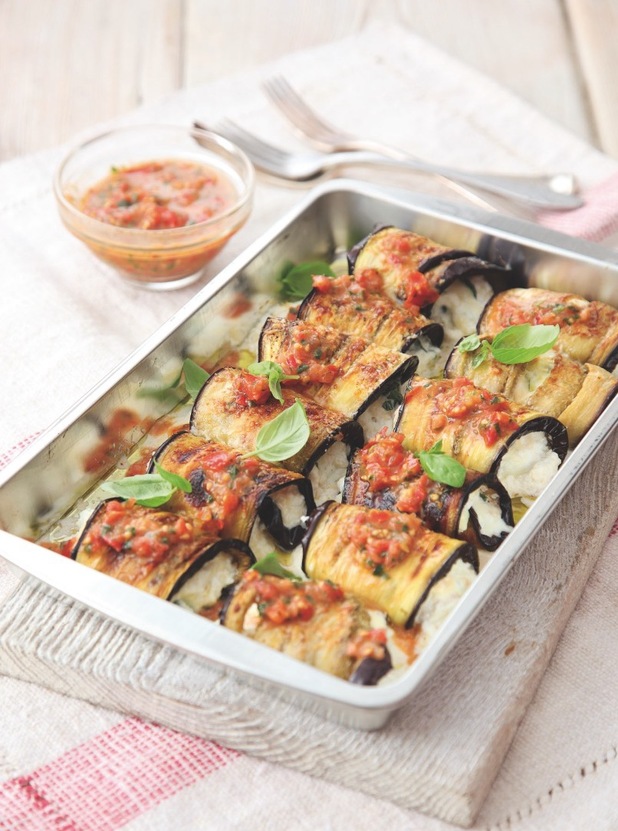 Ingredients
2 aubergines
300g (10 oz) ricotta cheese
50g (2 oz) DIVO Parmigiano Reggiano Extra cheese, grated (or for vegetarians DIVO Vegetarian Grated Italian Hard Cheese
150g (5 oz) mozzarella cheese, finely diced
15g (1/2 oz) fresh basil, torn into extra pieces, plus extra to garnish
Salt and freshly ground black pepper
200g (7 oz) cherry tomatoes
4 teaspoons extra virgin olive oil
Method
1
Preheat the oven to 180C/160F/gas mark 4.
2
Cut the aubergines lengthways into 5mm (1/4 inch) thick slices and grill in both sides until soft.
3
In a bowl, mix the ricotta witth half the grated Parmigiano Reggiano (or vegetarian variety) and the mozzarella. Add almost all the basil and seasonings.
4
Spread the ricotta mixture over each aubergine slice and roll up.
5
Arrange the aubergine rolls in a buttered roasting tin and sprinkle with the rest of the grated Parmigiano Reggiano or vegetarian cheese. Bake in the oven for 10 minutes.
6
Meanwhile, blend the cherry tomatoes with the olive oil and remaining basil leaves in a blender or food processor. Pour the sauce into a pan and heat through.
7
Serve the cannelloni, sprinkled with the extra basil, with the tomato sauce.
Prep Time
10 minutes
Cook Time
30 minutes
Nutrition Information
Serves 4
Try these other tasty Italian recipes:
Lamb Linguine With Peas & Leeks
Simple Spaghetti With Tomato Sauce
Hearty Italian Vegetable Soup
Chai Tiramisu