BBC Children in Need is taking place today and if you're still deciding how to raise some dosh, how about a bake sale?
These zesty lemon cupcakes are perfect and are decorated with super-cute edible Pudsey bears! Whip up a batch and sell to family, friends and work mates – they are guaranteed to go down a storm. If you're finding it hard to get your hands on edible Pudsey bears they work just as well without!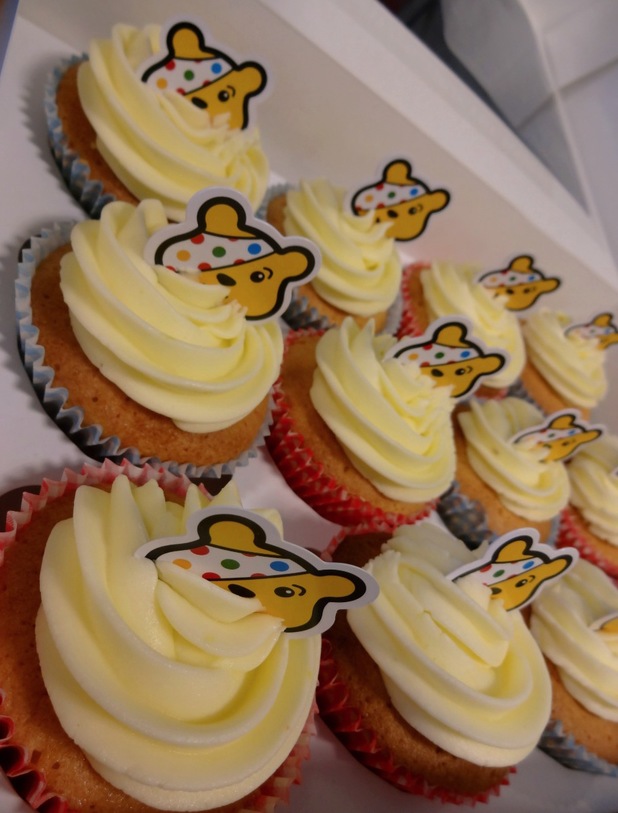 Ingredients
For the cupcake mix
110g unsalted butter, at room temperature
225g caster sugar, preferably golden
2 large eggs
150g self-raising flour, sifted
125g plain flour, sifted
90ml semi-skimmed milk, at room temperature
2 tablespoons of The English Provender Co. Luxury Lemon Curd
1 tablespoon of sour cream
Grated zest of 1 lemon (you need a teaspoon)
For the lemon buttercream icing
110g unsalted butter, at room temperature
3-4 tablespoons of lemon curd
500g icing sugar
12 edible Pudsey cake toppers to decorate (buy online)
Extra 3 tablespoons of lemon curd
Method
1
Preheat the oven to 160C/180C/gas mark 4 and line a 12-hole muffin tray with the cupcake cases.
2
In a large mixing bowl, cream the butter and sugar until the mixture is pale and smooth, which should take 3-5 minutes using an electric hand mixer. Add the eggs, one at a time, mixing for a few minutes after each addition.
3
Combine the two flours in a separate bowl and combine the milk, lemon curd and sour cream in a jug. Add one-third of the flours to the creamed mixture and beat well. Pour in one-third of the milk and beat again.
4
Repeat these steps until all the flour and milk have been added, incorporating the lemon zest with the last third of flour. If the mixture starts to curdle, simply add another spoonful of plain flour and beat well.
5
Spoon the mixture into the cupcake cases, filling them two-thirds full. Bake in oven for 25 minutes until slightly raised and golden brown. To check they are cooked, insert a skewer in the centre of one of the cakes – it should come out clean.
6
Remove from the oven and leave to cool on a wire rack. Whilst the cakes are cooling, prepare the lemon buttercream icing. In a large mixing bowl, beat the butter, lemon curd and half the icing sugar with an electric mixer until smooth.
7
Gradually add the remainder of the icing sugar and beat again until smooth and creamy.
8
Once the cakes are cool, cut a circular hole into the top of each cake, carefully removing a small cone shaped piece. Into the hole, pop a teaspoon of lemon curd and place the piece of cake on top.
9
Using a piping bag, pipe a generous swirl of lemon buttercream onto each cupcake and decorate with the edible Pudsey cake toppers.
Prep Time
20 minutes
Cook Time
25 minutes
Nutrition Information
Makes 12 cupcakes
Check out these other fab cupcake recipes:
Vegan Jaffa Cake Cupcakes
Ice Cream Cupcakes
Lindt's Mini Chocolate Cupcakes
White Chocolate Cupcakes With Pink & Violet Buttercream