Serve up this cocktail at your Halloween party for a spook-tacular tipple. A twist on the classic Bloody Mary, this drink created by The Bar contains crushed garlic and soy sauce and combines it with fresh tomato juice and vodka.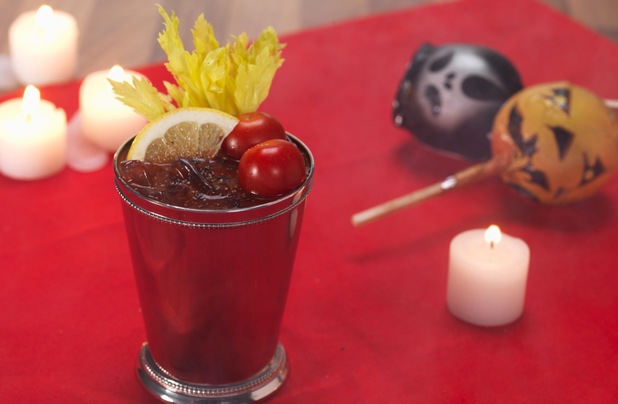 Ingredients
40ml Smirnoff Red
100ml Tomato juice
Fresh crushed garlic (or Wasabi for an extra kick)
Dash of soy sauce
1 lemon wedge
2 cherry tomatoes
1 celery stick
Method
1
Fill a glass with ice. Using a jigger, pour 40ml of vodka and 100ml tomato juice in to the glass.
2
Add a drop of crushed garlic or wasabi and a dash of soy sauce.
3
Stir in the ingredients together slowly, using a bar spoon or teaspoon.
4
Garnish with two cherry tomatoes, a lemon wedge and celery stick.
Nutrition Information
Contains 1.5 units.
Try out these other Halloween recipes:
Popcorn Toffee Apples
Halloween Beetroot Soup
Green Slime Eyeball Pasta