Halloween is just around the corner so why not get in to the swing of things with this scary spaghetti dish containing "oozing eyeballs".
The eyeballs are in fact turkey mince, mozzarella and pesto sauce, which works deliciously well with the spaghetti "worms". Serve this gory-looking dish to your guests for a dinner that they won't forget in a hurry!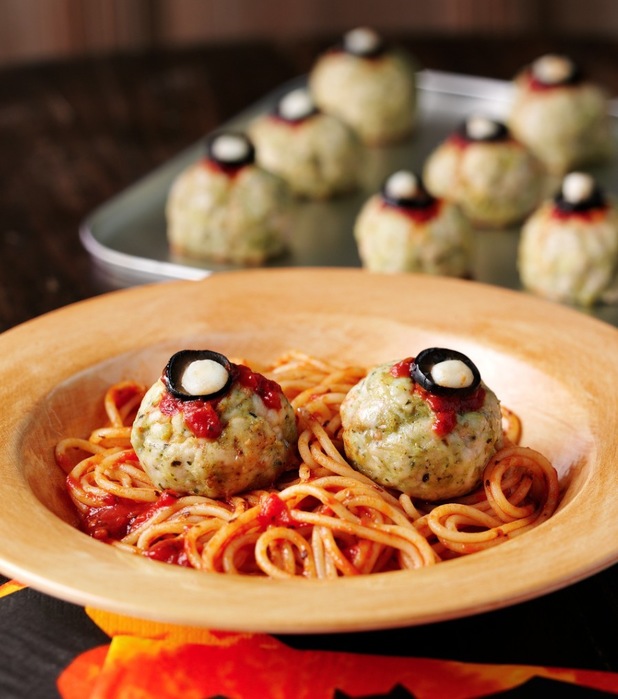 Ingredients
500g minced turkey
3 tablespoons pesto sauce
25g fresh white breadcrumbs
1 egg, beaten
Salt and freshly ground black pepper
50g Mozzarella cheese, from a block, cut into thin sticks
350g jar Newman's Own Basilico sauce
4 extra large pitted black olives, sliced into 12
300g dried spaghetti
Method
1
Preheat the oven to 180C/gas mark 4. Place the minced turkey in a mixing bowl with pesto sauce, breadcrumbs and egg.
2
Season and mix until all the ingredients are combined, then shape in to 12 meatballs and place on a non-stick baking tray.
3
Make a hole through the centre of each meatball with the handle of a teaspoon, but not all the way through. Drizzle in a little of the Basilico sauce then poke a mozzarella stick into each, so just poking out the top. Top each with a slice of olive.
4
Bake for 20-25 minutes until cooked through and the cheese has melted and is oozing.
5
Meanwhile bring a large saucepan of slightly salted water to the boil and add the spaghetti, cook for 8-10 minutes or according to packet instructions and drain well. Return to the pan to keep warm.
6
Place the remaining sauce in a small pan, heat gently until hot, then pour over the spaghetti and toss well.
7
Divide the spaghetti worms between 4 bowls and top each with the oozing meatball eyes. Serve immediately.
Prep Time
20 minutes
Cook Time
30 minutes
Nutrition Information
Serves 4-6
Serve up these other Halloween treats:
Spooky Halloween Beetroot Soup
Green Slime Eyeball Pasta
Popcorn Toffee Apples