We love this recipe from Royal cakemaker Fiona Cairns, who famously was chosen by Prince William and his wife Kate Middleton to bake their wedding cake.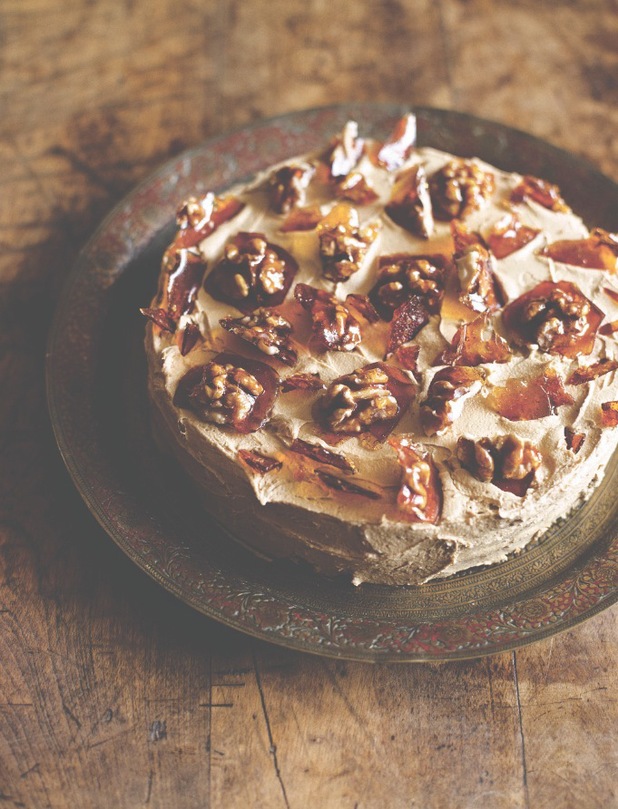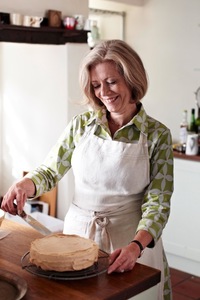 This is something very different - a coffee cake with a twist.
It's from Fiona's new recipe book,
Seasonal Baking
which selects the best ingredients and cakes according to the time of year - from mango pavlova in summer, to fig, port and star anise christmas cake (watch out for this latter recipe in a future issue of the magazine!)
This coffee, walnut and cardamom cake is one of the stars of her Autumn Section and we love the way the caramel and nut decoration cleverly conjures up the colours and textures of the season.
Leicester-based Fiona, whose clients also include Sir Paul McCartney, writes: 'A twist on an old favourite, the exotic addition of freshly crushed cardamom to this cake is sublime.
'I've also put in a few ground almonds to make an extra-moist cake.'
Perfect for Afternoon Tea. Or
Anytime
, frankly!
Ingredients
FOR THE CAKE
175g unsalted butter, really soft, in pieces, plus more for
the tins
50g walnuts, roughly chopped
15 cardamom pods
175g caster sugar
1 tbsp instant coffee, dissolved
in 1 tbsp of boiling water
and cooled
3 eggs, lightly beaten
50g ground almonds
125g self-raising flour, sifted
FOR THE CARAMELISED WALNUTS
50g walnut halves
100g caster sugar
FOR THE BUTTERCREAM
5 cardamom pods
150g unsalted butter, softened, in pieces
250g icing sugar, sifted
1 tsp vanilla extract
2 tsp Camp coffee essence
(or 1 tbsp instant coffee, prepared as above for the cake)
1 tbsp double cream
Method
1
Preheat the oven to 180°C/fan 160°C/350°F/gas mark 4. Butter two 20cm round sandwich tins and line with baking parchment. Keeping them separate, place the nuts both for the cake and the caramelised nuts on baking trays and roast for six minutes. Cool.
2
Lay the walnut halves for the caramelised walnuts on a baking tray lined with baking parchment. Have a sink or washing-up bowl of cold water to hand.
3
Put the sugar and 100ml of cold water in a saucepan and dissolve the sugar over a gentle heat, stirring with a metal spoon. Increase the heat to a boil, stop stirring and occasionally brush the sides of the pan with a pastry brush dipped in cold water, to prevent crystals forming. Boil until the mixture turns a beautiful caramel gold and has thickened. Plunge the base of the pan into the cold water, then, using a teaspoon, drizzle the caramel over the walnuts on the tray and leave to set.
4
De-seed all 20 cardamom pods for the cake and buttercream, grind the seeds to a powder in a mortar and pestle and sift it to remove husks. Keep one-quarter aside for the buttercream.
5
In a food mixer (or in a bowl with a hand-held electric whisk), cream together the butter, sugar and coffee until very light and fluffy (a good five minutes). Gradually add the eggs, then the almonds and cardamom. Gently fold in the flour and chopped nuts; don't over-mix. Divide between the tins and bake for 20–25 minutes, or until a skewer comes out clean. Cool on a wire rack.
6
To make the buttercream, in a food mixer (or in a bowl with a hand-held electric whisk), beat the butter and icing sugar for a good five minutes. Add the vanilla extract, cardamom, coffee and cream and beat until smooth. Spread over both cakes, then place one on top of the other. Spread it over the sides, too, if you like.
7
Decorate with caramelised walnuts and shards of the caramel, to make a dramatic autumnal decoration.
Nutrition Information
Serves 6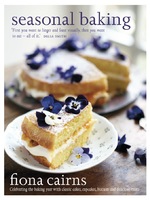 From SEASONAL BAKING by Fiona Cairns, published by Weidenfeld & Nicolson £25
© Fiona Cairns
Other delicious cakes to make....
Mary Berry's Very Best Chocolate Fudge Cake
Lower GI Coconut & Chocolate Layer Cake
Easy Ginger Fruit Cake
Lemon Daisy Cake