Another recipe that's ideal for your Halloween celebrations is this sticky orange and yoghurt cake – a delicious treat decorated with orange syrup to create a spooky effect.
A real winner for food lovers, the cake combines orange and almonds for a lovely rich flavour. Even better, this could work just as well post-Halloween for a dessert served after a warming Sunday roast. Tuck in!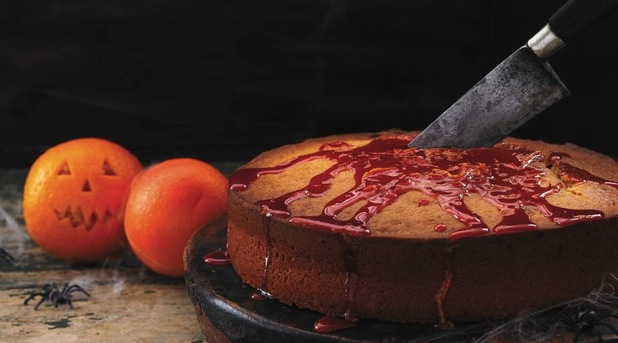 Ingredients
For the cake
150g sugar
200g self-raising flour
100g almonds
1 teaspoon baking powder
250g Yeo Valley Blood & Caramel yogurt (and extra to serve)
2 eggs
150g unsalted butter
Zest of ¼ orange, finely grated
For the syrup
50ml water
175g caster sugar
Zest of ¼ orange & juice of whole orange
Zest of ½ lemon
5 cardamom pods, bruised
Method
1
Heat the oven to 180C/160C/gas 4. Grease a 20cm springform tin and line the bottom with baking paper. Put all of the cake ingredients into a large mixing bowl and beat with an electric whisk until smooth.
2
Spoon the mixture into the cake tin and bake for 45 minutes until the centre springs back when gently pressed.
3
Meanwhile put all the syrup ingredients into a small pan. Heat until the sugar dissolves, then bring to the boil and simmer for about 10-15 minutes until it becomes syrupy. Set aside to cool and remove the cardamom.
4
Leave the cake in the tin to cool for 10 minutes – don't worry if it sinks a little. Then put on a serving plate, pierce the top with a skewer and drizzle over the syrup.
5
Serve the slices with an extra dollop of the orange and caramel yoghurt.
For more recipes using Yeo Valley,
head here
.
Try out these other spooky recipes:
Halloween Beetroot Soup
Green Slime Pasta
Popcorn Toffee Apples