Meat lovers, listen up! This is a delicious steak recipe that is so quick to make and tastes incredible!
Taking just five minutes to cook, these juicy steaks are jazzed up with a fiery sauce that combines red onions, chopped tomatoes and a vibrant, hot chili sauce. Put this yummy dinner together for the perfect Saturday night meal and eat with yummy
potatoes.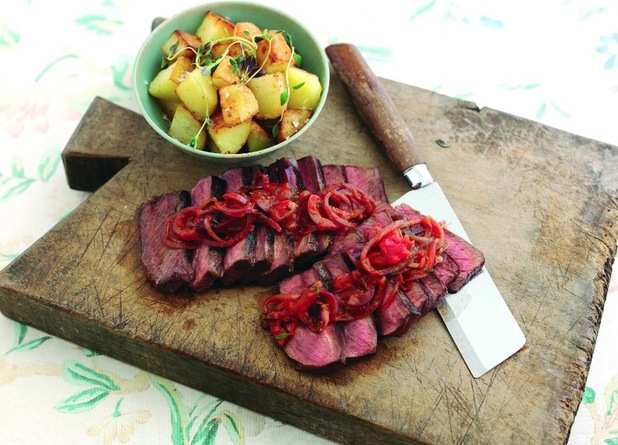 Ingredients
4 x 175g/6oz lean flat iron steaks
1 medium red onion, peeled and finely sliced
1 x 227g can chopped tomatoes
15ml/1tbsp freshly chopped thyme leaves
10ml/2tsp good hot chilli sauce
30ml/2tbsp rapeseed or olive oil
5ml/1tsp white sugar
Salt and freshly milled black pepper
Method
1
Heat half the oil in a large non-stick frying pan.
2
Place the steaks on a chopping board and season on both sides.
3
Add the steaks to the pan and cook according to your preference. Transfer to a warm plate, cover with foil and leave to rest for 5-10 minutes.
4
Meanwhile, heat the remaining oil in in the same frying pan, add the onion and cook over a medium heat for 3-4 minutes or until soft.
5
Add the tomatoes, sugar, thyme and chilli sauce. Cook for 2-3 minutes. Season.
6
Serve the steaks with the sauce, sauté potatoes and seasonal vegetables
Prep Time
10 minutes
Cook Time
Rare- 2 minutes on each side, Medium rare - 3-4 minutes on each side, Medium - 5-7 minutes on each side
Nutrition Information
Serves 4
Take a look at these:
Irish Stove Top Potatoes with Cheese
Save money by making your own Chips
Ultimate BBQ Roast Potatoes
Lower calorie Potato Dauphinoise
Salmon & Spicy Potato Bake