These cute cupcakes are perfect for Halloween and really easy to make. Whip them up for your Halloween celebrations or hand them out to Trick or Treat visitors.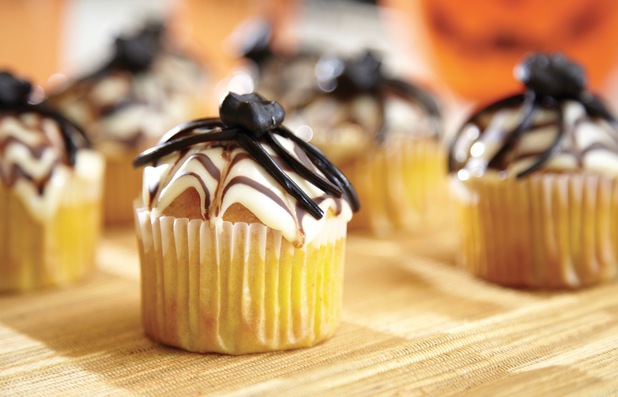 Containing pumpkin - yes, they're a good way of using all that hollowed out flesh from your lanterns - the cakes are decorated with chocolate webs and liquorice spiders. Don't they look great?
Ingredients
175g (6 oz) tub of Stork margarine
175g (6 oz) Golden caster sugar
300g (11 oz) Self raising flour, sieved
3 Medium eggs
5 Tablespoons milk
½ Teaspoon baking powder
100g Cooked pumpkin or butternut squash, mashed
50g Chocolate and hazelnut spread
Zest of 1 Orange
For the topping:
• 115g Icing sugar
• A little orange juice
• 55g (2 oz) Plain chocolate, melted or use chocolate and hazelnut spread
• Liquorice sweets and laces to decorate
Method
1
Place 12 muffin cases into a muffin tray. Beat the margarine, caster sugar, flour, eggs, milk and baking powder in a bowl until smooth.
2
Stir in the pumpkin mash and orange zest and divide half the mixture evenly between the paper cases. Add half a teaspoon chocolate spread and top with the remaining mix.
3
Bake in a 200C/180F/gas 6 pre-heated oven for 20-25 minutes.
4
When cooked, remove from oven and leave to cool. Meanwhile, add a little orange juice to the icing sugar until thick. When cakes have cooled, spread over the cakes.
5
Pipe the melted chocolate in four circles over the top and then drag a skewer through to give the cobweb effect.
6
Place the sweets and laces on top to look like a spider.
Prep Time
15 minutes
Cook Time
25 minutes
Nutrition Information
Makes 12
Make these other Halloween treats:
Halloween Beetroot Soup
Green Slime Eyeball Pasta
Popcorn Toffee Apples