Halloween is pumpkin season and they're plentiful and relatively cheap in the shops at the moment. This is a great way of using the hollowed out flesh from your decorative pumpkin lanterns, to make a warming one-pot stew.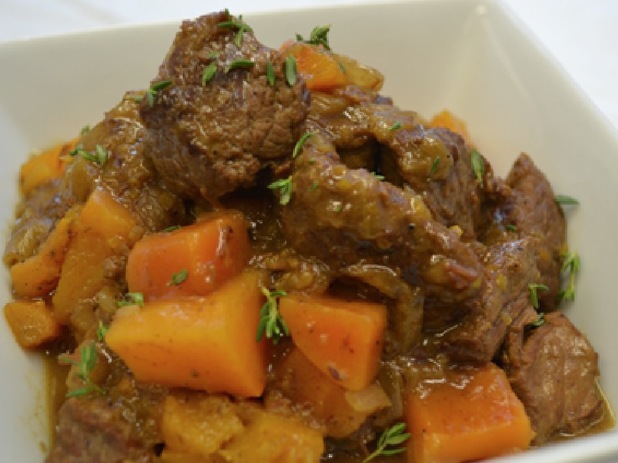 The sweet pumpkin flesh is great combined with tender beef, tasty veggies, and spices to add ooomph.
The secret to the recipe is
Forces Sauces'
Brigadier Brown Sauce. The brand was founded by Veteran's Stroll and at least 6p of every bottle of sauce sold will go to the charity which supports those serving in the forces or who have served. With Rememberance Sunday on the horizon, this is one cause we're proud to support.
Ingredients
750g beef flank/braising beef, diced
650ml red wine
500g pumpkin, skin removed and diced (or Butternut squash if you prefer)
2 large carrots, diced
2 large onions, diced
Zest and juice of 2 large oranges
350ml beef stock (or chicken if you prefer)
2 bay leaves
A generous pinch of cinnamon (reserving some to sprinkle over the pumpkin)
Pinch of nutmeg
2 star anise (remember to remove before serving)
2 generous tablespoons of Brigadier Brown Sauce
Salt and pepper
Some olive oil
Method
1
In a large pot, seal the diced beef in the olive oil until it is a lovely even, caramelized brown colour all over.
2
Remove the beef from the pan and set aside to cool. To the same pan add the diced carrots and onions to soften, making sure to scrape up the beef residue from the base of the pan.
3
Then add in some of the cinnamon, the star anise and nutmeg. Re-introduce the beef and stir to coat the meat with the spices. Add the wine and reduce by a third.
4
Cover and cook on a low heat for 2 hours. At the two-hour mark, sprinkle the remaining cinnamon over the pumpkin pieces and add to the stew.
5
Cook for a further 30 minutes, until the pumpkin had softened but still retain its shape.
6
Finish with a generous squeeze of Brigadier Brown Sauce, which accentuates the cinnamon and nutmeg in the stew.
7
Remove the two star anise pods and season to taste. Serve with mashed potato or pearled barley.
Prep Time
30 minutes
Cook Time
2 hours and 30 minutes
Nutrition Information
Serves 4
Try out these other delicious dinners:
Thai Potato & Chicken Curry
Low Fat Moussaka
Tandoori Style Salmon
Pork & Chorizo Meatballs