Gozleme is a traditional Turkish pastry that can be stuffed with various savoury fillings. This is usually served as breakfast in Turkey but we reckon it would made the perfect lunch or as a dinner served alongside rice and fresh salad.
This particular recipe is filled with juicy lamb mince, fresh spinach and chopped peppers and onions. If you are a veggie, simply swap the meat for some feta cheese.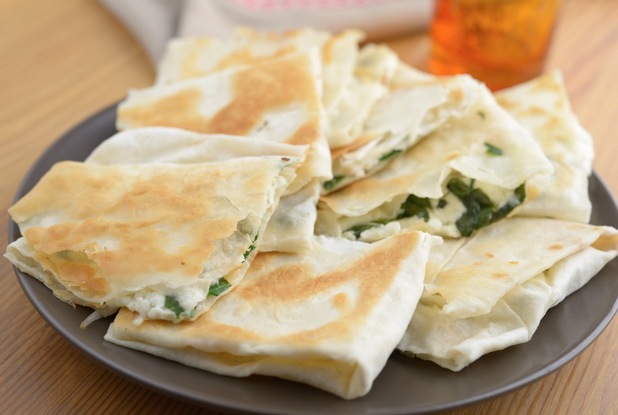 Ingredients
Filo pastry – 6 medium thickness sheets for 6 Gozleme parcels
300g mincemeat (lamb or beef – substitute with feta cheese & parsley for a vegetarian option)
200g Spinach
1 medium onion, chopped
1 green pepper, chopped
1-2 tablespoons olive oil
Grated cheddar cheese (optional)
Method
1
Heat the olive oil in a frying pan, add the onions, fry and stir occasionally until light brown on a medium/low heat.
2
Add the meat and chopped pepper, fry until medium brown, stirring occasionally.
3
When cooked add the spinach for a final minute until it reduces to blend with the meat. For the vegetarian option crumble the feta with chopped parsley in a bowl.
4
Lay out the filo pastry in 6 inch square sheets, if the pastry is of the very thin kind use two sheets.
5
Place your filling in the centre, spread out thinly in a square shape. Then fold the four sides in, covering the filling completely, using a little water, brushed on, to help seal them. Grate a little cheddar cheese on top of the filling, if you wish.
6
Fry each in 1 tablespoon of olive oil on a medium heat, on each side, until golden brown.
Prep Time
40 minutes
Cook Time
25 minutes
Nutrition Information
Makes 6
Laurence O'Bryan is author of the Manhattan Puzzle, the sequel to the critically acclaimed The Istanbul Puzzle. The Manhattan Puzzle is available nationwide now.
Try out these other savoury delights:
Avocado & Cheese On Toast
Savoury Cupcakes
Make Your Own Falafels
Ultimate Scotch Egg Recipe