This one pot recipe saves on washing-up time, so it's a great mid-week dish to whip up as a delicious dinner.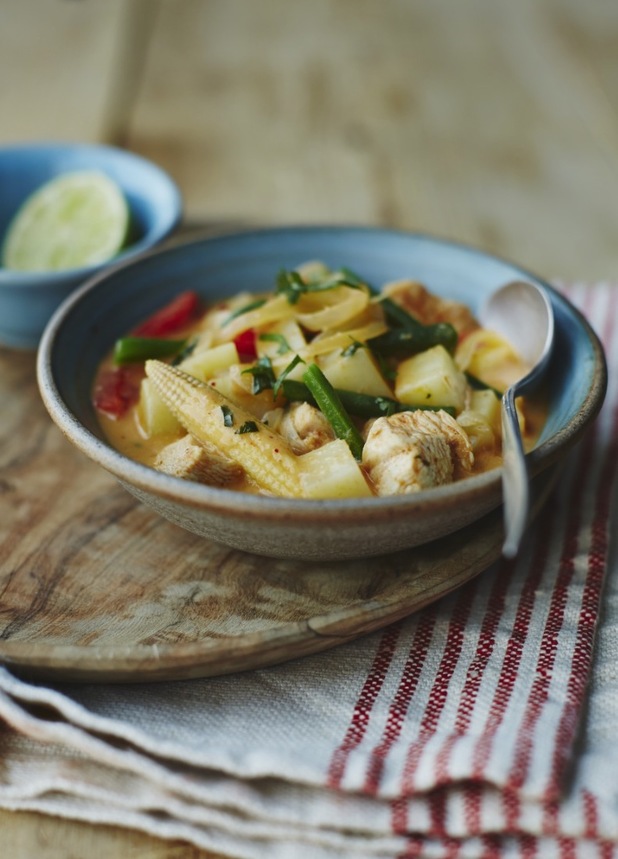 You can add in any leftover veggies that need using up, and then throw in some chicken and flavoursome spices to complete this yummy curry. Even better, if you aren't good with spicy food, this has a mild to medium strength, so it's a great curry to start off with.
Ingredients
1 tbsp sunflower or vegetable oil
1 onion, chopped
1 ½ tablespoon Thai red curry paste
1 tablespoon tomato puree
500g Maris Piper potatoes, peeled and cut into 2-3cm chunks
2 chicken breasts cut into bite-size pieces
1 small red pepper, cut into strips
1 tablespoon fish sauce
300g coconut milk
100ml low salt chicken stock
100g baby corn, and 100g green beans halved
Juice of 1/2 lime
½ bunch of coriander, chopped
Method
1
Prepare the onion, heat the oil in a wok or frying pan and then gently sauté the onion for about 5 minutes. You want it soft but not coloured.
2
Meanwhile prepare the potatoes, green beans, baby corn and red peppers.
3
Add the curry paste, tomato puree, diced potatoes, chicken and red pepper to the onion, stirring the mixture for a couple of minutes then adding in the fish sauce, coconut milk and 100ml water.
4
Bring the mixture to a gentle simmer and cook uncovered for 15 minutes before adding the baby corn and green beans to the curry.
5
Continue cooking for 5-8 minutes until the vegetables are just tender and just before serving, finish by stirring in the lime juice and coriander.
Prep Time
20 minutes
Cook Time
30-35 minutes
Nutrition Information
Serves 4
Try this other delicious curry recipes:
Easy Thai Prawn Curry
Hairy Bikers' Chicken Tikka Masala
Prawns In Tomato & Coconut Milk
Bombay Bacon Curry
Coriander Chicken