It's definitely getting colder outside so warm yourself up with this creamy soup that is simple to make and has a gorgeous taste.
Created by TV cook Jo Pratt, the recipe mixes a comforting blend of potatoes, garlic, onion and bay leaves. Make up a big batch and it will keep you going throughout the week, being used as either a yummy lunch or light supper.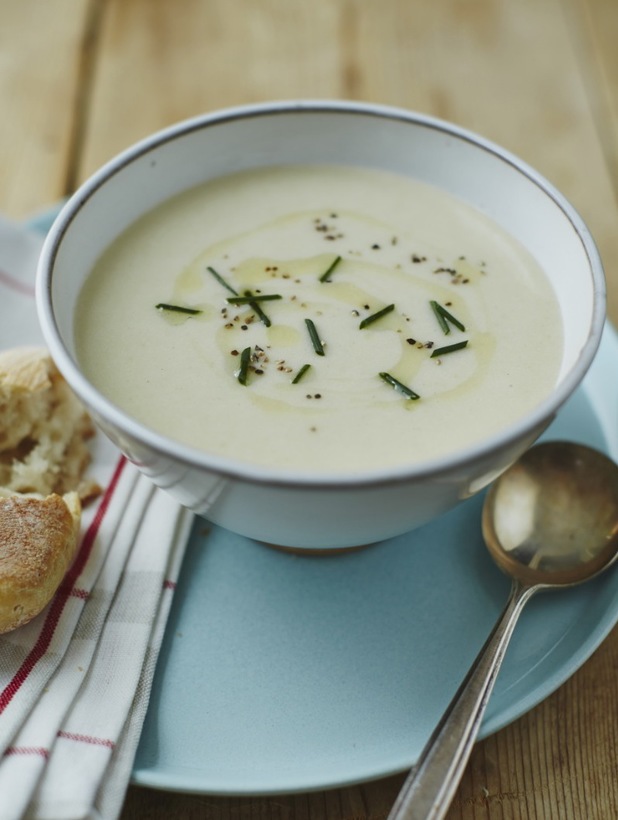 Ingredients
1 tablespoon olive oil
20g butter
1 large onion, chopped
2 cloves garlic, crushed
2 bay leaves
1 teaspoon Dijon mustard
450g Maris Piper potatoes, peeled
850ml hot vegetable stock
150ml milk
Chopped chives, to serve
Method
1
Heat the olive oil and butter in a large saucepan. Once the butter has melted, add the onion and bay leaves. Sauté for about 5 minutes until the onion has softened, but not coloured.
2
Meanwhile cut the potatoes into rough 2cm pieces, then add to the pan along with the garlic. Stir to coat in the butter then cover with a lid. Cook over a low-medium heat for about 8 minutes stirring once or twice to prevent the potato sticking to the base of the pan.
3
Stir in the mustard and pour in the stock, then bring to a simmer and cook with the lid off for 12 minutes until the potatoes are completely cooked through.
4
Remove from the heat and take out the bay leaves. Cool slightly before adding the milk and then blend well in a food processor or liquidizer until completely smooth.
5
Season to taste and serve hot, garnished with chopped chives and a twist of black pepper.
Prep Time
10 minutes
Cook Time
25 minutes
Nutrition Information
Feeds 4
For more fab recipes using potatoes,
head here
.
Check out these other great soup dishes:
Gordon Ramsay's Cod & Tomato Chowder
Healthy Watercress Soup
Cream Cheese & Onion Soup
Italian Vegetable Soup