If you're a big chocolate fan, then chances are that your mouth is watering at the sight of these delicious cupcakes.
Marbled chocolate is really effective and so simple to do, as demonstrated in this recipe. The addition of peppermint buttercream adds a fresh twist to these chocolate treats.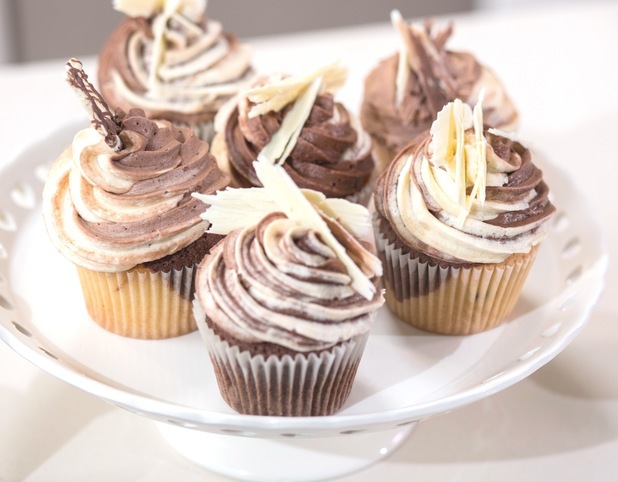 Ingredients
Cupcake ingredients:
150g golden caster sugar
150g margarine
150g self raising flour
2 medium free range eggs
75g white chocolate
75g extra dark chocolate
1 teaspoon vanilla extract
2 tablespoons of boiling water
Buttercream ingredients:
250g of unsalted butter at room temperature
300g icing sugar
2 tablespoons of whole milk, room temperature
4/6 drops of peppermint extract – depending on taste
50g white chocolate
50g extra dark chocolate
Two tone chocolate shavings ingredients:
25g white chocolate (left over from buttercream recipe)
25g extra dark chocolate (left over from buttercream recipe)
Method
1
Preheat the oven to 180C/350F/gas mark 4 and line a muffin tray with muffin cases.
2
Over a Bain Marie, melt the white chocolate and set aside. Repeat with the dark chocolate.
3
Beat the eggs and set aside. Cream the margarine and golden caster sugar until pale, light and fluffy.
4
Add the vanilla extract, a tablespoon of the flour and half of the eggs and combine. Add another tablespoon of flour and the remaining egg mixture. Sift the remaining flour and fold into the mixture.
5
Separate the batter in half and to one add half the white chocolate and the other the dark. Gentle mix until combined, then add in two tablespoons of hot water and combined.
6
Fill the cupcake cases just over half way with equal amounts of each cupcake batter. Use a cocktail stick to swirl the two batters together. Bake the cakes for 20-22 minutes or until they are firm to the touch.
7
Make the buttercream by melting the dark chocolate over a Bain Marie and set aside. Repeat with the white chocolate.
8
Cream the butter, milk, icing sugar and peppermint extract until light and fluffy. When combined, separate into two bowls. Add the dark chocolate to one half of the buttercream and combine. Add the melted white chocolate to the remaining buttercream.
9
Fill a piping bag with the nozzle already in place with the two types of buttercream. Spoon each buttercream side by side so the bag is filled evenly with both buttercream. Pipe onto cooled cupcakes.
10
For the decorations, melt 25g of dark chocolate over a Bain Marie and repeat with 25g of white chocolate.
11
Over a non-stick surface or marble slab, pour out the white chocolate and move around with a spatula. This will allow it to cool and set. Repeat with dark chocolate and overlap with the white by two inches. Allow to cool but not completely set.
12
With a spatula scrape the chocolate towards you creating shavings and curls. Use these for decoration.
Prep Time
30 minutes (plus one hour to cool the choux pastry)
Cook Time
20-22 minutes
Nutrition Information
Makes 10-12
Dr. Oetker has commissioned Lisa Marley to create a range of exclusive recipes for 'The Great Chocolate Bake' - inspiring the nation to push the boundaries of baking with chocolate. For your chance to win a trip to New York, enter your chocolate cupcake here.Some other fab recipes for chocolate lovers:
Gluten Free Chocolate Pudding
Chocolate Layer Cake
Chocolate Mousse Melting Moments
Mary Berry's Chocolate Brownies