Fenland celery is in season from October to December so embrace this tasty vegetable and try out this warming soup.
This particular type of celery has a unique nutty-sweet flavour so it's a great addition to any dish. The soup combines
Fenland celery
with Stilton cheese for a creamy texture and wonderful taste. Follow this easy method to make a lovely soup and also your very own cheesy croutons, which will add a nice crunch.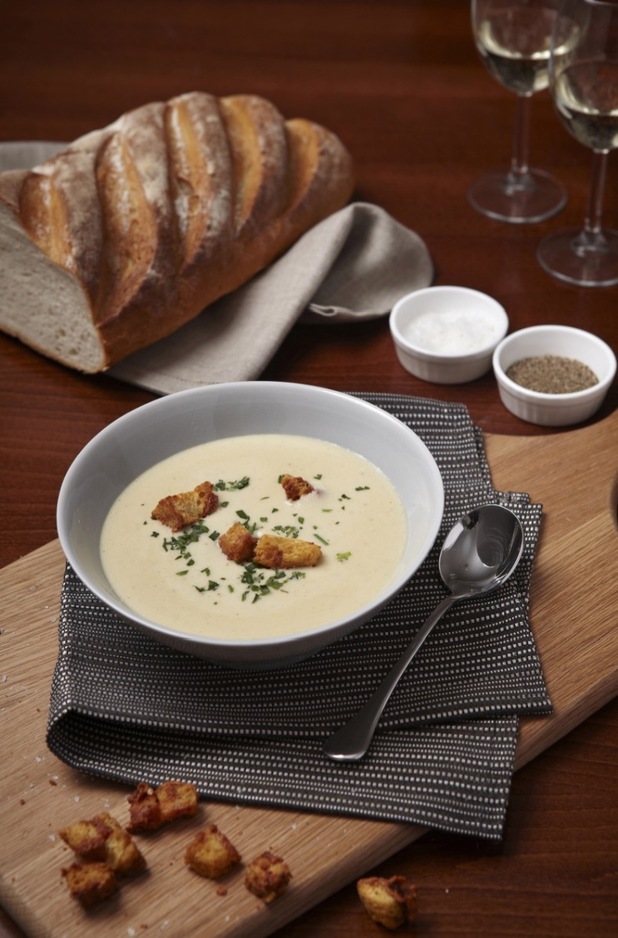 Ingredients
1oz butter or margarine
1 small or ½ medium celeriac, chopped
1 large leek, chopped
2 cloves garlic, chopped
1 whole head of fresh Fenland Celery with leaves, chopped (reserve some leaf for garnishing)
850ml vegetable or chicken stock
150ml milk
75g Stilton cheese
Salt and pepper
For the croutons:
1 small white loaf (1 day old), cut into small cubes
2 tablespoon olive oil
50g Cheddar, grated
Method
1
Melt the butter or margarine and add the celeriac. Stir and then sweat for 3-4 minutes before adding the leek and garlic and cooking for a further 3-4 minutes.
2
Add the chopped celery and stock. Gently simmer with the lid on for 15 minutes or until the celery is just soft. Remove from heat and leave to cool.
3
Liquidise and then sieve if a smoother texture is desired. Stir in the milk and cheese and reheat until the cheese has dissolved, taking care not to let it boil.
4
Garnish with croutons (recipe below) and 1 teaspoon finely chopped celery leaf.
Cheesy croutons:
1
Mix the bread cubes, olive oil and grated cheese in a bowl. Scatter onto a baking tray and cook for 20 minutes at 180C/350F/Gas5.
2
Cook for another 10 minutes if not golden brown. Cool and store in an airtight container for up to a week.
Prep Time
10 minutes
Cook Time
30 minutes
Nutrition Information
Serves 4
Try these other yummy simple to make home-made soups:
Creamy Cheese & Red Onion Soup
Hearty Italian Vegetable Soup
Super Healthy Watercress Soup
Cauliflower Soup