Any fans of The Great British Bake Off will know that Mary Berry's famous choux pastry can prove to be a tough challenge for the contestants. But if you think you're up for it, why not have a go with this recipe from
The English Provender Co
.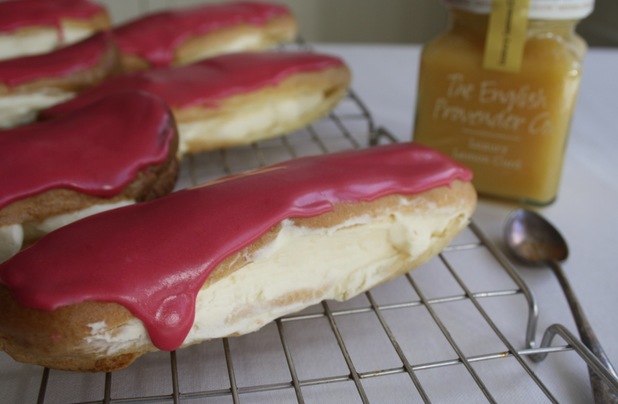 These lemon curd éclairs are a bit different from the classic chocolate and cream variety. Filled with zesty lemon and topped off with a sweet raspberry icing, they are simply delicious. We reckon even the GBBO judges would be impressed with these pastry treats.
Ingredients
For the choux pastry
50g unsalted butter
50ml milk
75ml water
½ teaspoon fine salt
1 tablespoon caster sugar
125g plain white flour
3 medium eggs
For the lemon curd cream
400ml double cream
1 jar English Provender lemon curd
For the icing
4 tablespoons raspberry puree (place about 150g frozen raspberries in a sieve and squeeze out the juice, discarding the seeds)
200g icing sugar
Method
1
Preheat the oven to 200c. Place the butter, milk, water, salt and sugar in a pan and bring to the boil.
2
Sift the flour and when the liquid reaches boiling point add the flour and beat well for 30 seconds until dough leaves sides of pan.
3
Remove the dough from the pan to cool a little then place back in the pan and beat in the eggs one at a time.
4
Line a large baking tray with non stick baking paper and while the mixture is still warm, spoon or pipe it onto the baking tray in long lines and place in the oven.
5
Do not open the oven door, reduce to 180 and bake for 20 minutes until crisp and dry.
6
Whisk the cream until you have peaks then stir in the lemon curd. For the raspberry icing, stir the raspberry puree into the icing sugar until you have a thick but runny consistency.
7
When ready to serve, cut the éclairs in half and fill with some cream. Spread the icing over the top of each éclair and leave to set for an hour or so.
Prep Time
30 minutes (plus one hour to cool the choux pastry)
Cook Time
25 minutes
Nutrition Information
Makes about 12 (depending on size/length)
Have your own bake off this these other great recipes:
Baked Dark Chocolate & Ginger Cheesecake
Blueberry Scones
Ginger Fruit Cake
Mary Berry's Chocolate Fudge Cake