He baked his way into our hearts in the first series of The Great British Bake Off so we snapped up this recipe from 2010 Bake Off winner Edd Kimber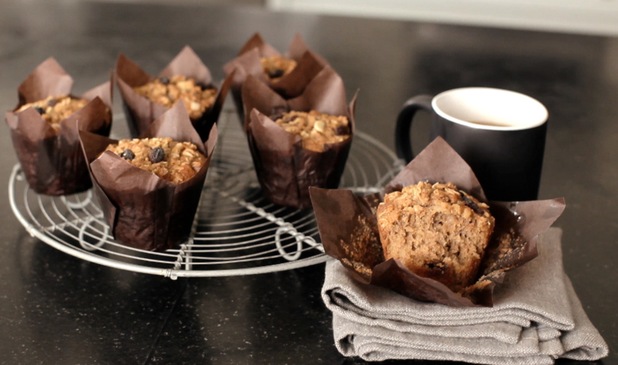 After all, there's nothing quite like freshly baked muffins, is there? The thing we love most about Edd's recipe is that they can even be eaten at breakfast, thanks to the addition of crunchy granola. Yummy!
Ingredients
150g plain flour
1 ½ teaspoon baking powder
1 teaspoon cinnamon
125g Jordans Crunchy Oat Granola Raisin and Almond
100ml vegetable oil
125g light brown sugar
2 large eggs
1 teaspoon vanilla extract
Method
1
Preheat the oven to 200c/fan 180/gas mark 6. Line a muffin tin with six paper muffin cases.
2
In a large bowl, mix the flour, baking powder, cinnamon and salt together. Add the granola, breaking up any large clusters with your fingers. Mix to combine.
3
In another bowl add the oil, sugar, milk, eggs and vanilla and whisk until fully combined.
4
Make a well in the dry ingredients and pour in the wet ingredients. Using a spatula or wooden spoon, gently mix the ingredients together. Don't worry if there are a few lumps, you want to avoid over mixing the batter as it can result in together muffins.
5
Divide the batter between the paper cases, place the muffin tin into the oven and bake for 20 minutes or until golden and risen.
6
Allow to cool in the tin for 10 minutes before placing on a wire rack to cool completely.
Prep Time
20 mins
Cook Time
20 mins
Nutrition Information
Makes 6
Get baking with these other fab recipes:
Chocolate Cookie Nut Crunch Cupcakes
Mary Berry's Very Best Chocolate Fudge Cake
Jo Wheatley's Chocolate Mousse Melting Moments
Mary Berry's Easy Chocolate Brownies