It's National Biscuit Month throughout September and while a few biccies with a cuppa is all well and nice, why not experiment a bit with this divine cheesecake?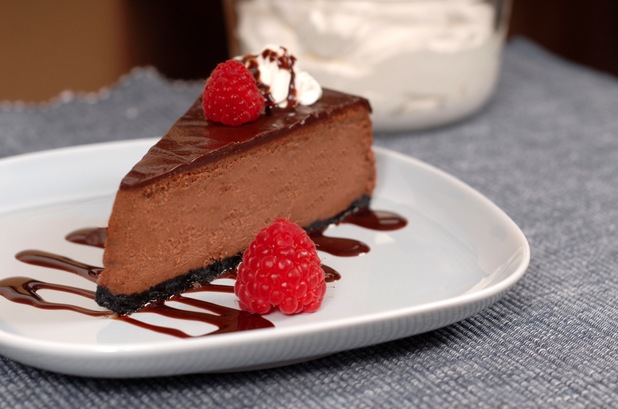 This method involves baking the cheesecake as opposed to just setting the cake in the fridge. Although this is more time consuming, it will result in a rich, velvety texture that is simply irresistible.
Combining dark chocolate and spicy ginger, this is the perfect post dinner treat, which is really easy to whip up from relatively few ingredients. Friends and family will just love it.
Ingredients
For the base
1 tin of East India Company Ginger Nut Biscuits
50g butter
For the filling
300g good quality Mascarpone or cream cheese
2 small eggs
2 tablespoon cane sugar
160g fine dark chocolate
Method
1
Preheat your oven to 150C/gas mark 2.
2
Place the biscuits into a bowl and use the end of a rolling pin to crush into crumbs, melt the butter and mix the two ingredients together. Once mixed, press firmly into the cottom of a 15cm loose bottomed cake tin.
3
Beat the mascarpone/cream cheese until smooth; then incorporate the eggs and sugar.
4
Melt the chocolate in a bain-marie, and fold into the cream cheese mix. (If you don't have a bain-marie (and who does?) melt the chocolate in a dry glass bowl over a pan of hot water. The key is making sure the chocolate melts evenly.
5
Pour the mixture on top of the prepared base and place into the pre-heated oven for approximately one hour.
6
Once the cheesecake is completely cooled, chill in the fridge until ready to serve. Perfect with a side of fresh raspberries.
Prep Time
20 minutes
Cook Time
1 hour
Nutrition Information
Serves 6-8
This recipe has been designed by The East India Company to celebrate National Biscuit Month.Check out some more delicious dessert recipes:
Muscovado Chocolate Cakes
Coffee & Walnut Cake
Raspberry Cheesecake Brownies
Mary Berry's Chocolate Fudge Cake