It's never too cold for ice cream and this recipe from celeb chef, Rachel Allen, shows just how easy it is to make your own.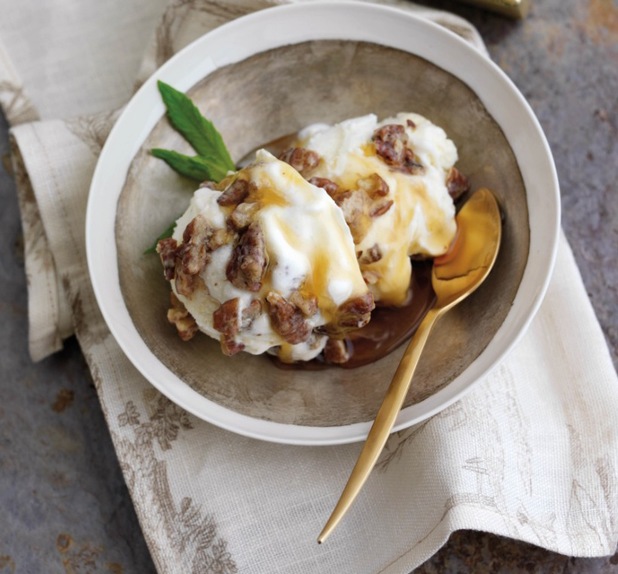 This classic North American dish combines yummy pecans and maple syrup, which is a superb combination for any one with a sweet tooth. The pecans are lightly toasted and tossed in butter to create a delicious, rich flavour
You will need an ice cream machine to make this nutty treat but if you don't have one, just make up the buttered pecans and mix with the maple syrup before serving with shop-bought vanilla ice cream.
Ingredients
150g (6oz) pecans, roughly chopped
3 tablespoons Kerrygold Softer butter
2 pinches salt
225ml (8fl oz) milk
100ml (4fl oz) double cream
3 egg yolks
1 tablespoon light brown sugar
5 tablespoon maple syrup
Method
1
Preheat the oven to 180C, fan over 160C, Gas Mark 4.
2
Place the pecans on a tray and in to the oven. Cook for 5-8 minutes until fragrant and a little darker. Remove from the oven, add the butter and one pinch of salt and toss until the butter is melted.
3
Set aside until the pecans are completely cool, they will absorb the butter.
4
Next place the milk and cream in a saucepan and heat up until the liquid just begins to steam.
5
Meanwhile whisk the egg yolks and the light brown sugar in a bowl until slightly pale and light in colour.
6
Pour the hot milk and cream onto the egg yolks, whisking all the time, then transfer back in to the saucepan and cook over a very low heat, stirring constantly until the mixture coats the back of a spoon. Keep the heat low, otherwise the mixture will scramble. You might need to remove it from the heat briefly from time to time -it should not boil.
7
Once the mixture coats the back of a spoon, whisk in the maple syrup and salt. Transfer into a wide bowl to cool it down as quickly as possible, before churning it in your ice cream machine.
8
When the ice cream is almost set, add in the pecans. Transfer into a freezer container and store, covered, in the freezer for up to 2 months.
Prep Time
10 minutes (25 minutes for churning)
Cook Time
10 minutes
For more Kerrygold recipes,
head here
.
Satisfy your sweet cravings with these other amazing recipes:
Muscovado Chocolate Cakes
White Chocolate & Ginger Curd Cheesecake
Blueberry Scones
Vegan Jaffa Cupcakes