These chocolate cookie crunch cupcakes look amazing, don't they?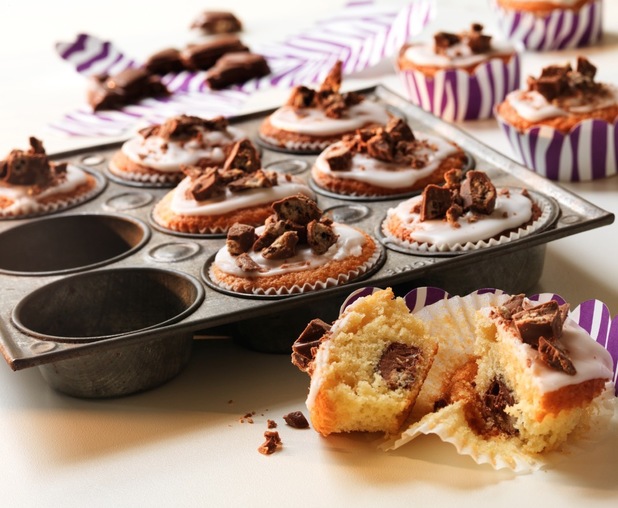 Devised by the chocolate experts at Cadbury's, the secret ingredient is a bar of Cadbury's Dairy Milk Marvellous Creations in Cookie Nut Crunch. Just chop it up and drop it into your cake mix - the results are magical.
Ingredients
100g unsalted butter, softened
100g caster sugar
100g self-raising flour
2 medium eggs
125g Cadbury Dairy Milk Marvellous Creations Cookie Nut Crunch
75g icing sugar
Cold water
Method
1
Preheat oven to Gas 5, 190°C. Place 12 paper cake cases into a bun tin or onto a baking tray.
2
Place the butter and sugar into a bowl and mix with an electric whisk until light and fluffy. Add the eggs one at a time, beating well after each addition. Fold in the flour.
3
Spoon half of the mixture into the cake cases. Break just over half of the chocolate into 12 bite size pieces and place one piece into the center of the cake mix. Top with the remaining mixture, making sure the chocolate is covered.
4
Bake in the oven for 15 minutes until well risen and the cakes spring back when touched with the finger. Cool.
5
Mix the icing sugar with a few teaspoons of water to make a spreadable icing. Spread on top of the cakes, chop the remaining chocolate and sprinkle over the icing.
Prep Time
10 minutes
Cook Time
15 minutes
Nutrition Information
Makes 12
Love chocolate? Check out these recipes.....
Mary Berry's Very Best Chocolate Fudge Cake
Chocolate & Raspberry Tart by Eric Lanlard
MIni Chocolate Cupcakes
Jo Wheatley's Chocolate Mousse Melting Moments