Wow - doesn't this look amazing? But doner kebabs are full of fat and calories and something to avoid if you're watching your weight. Right?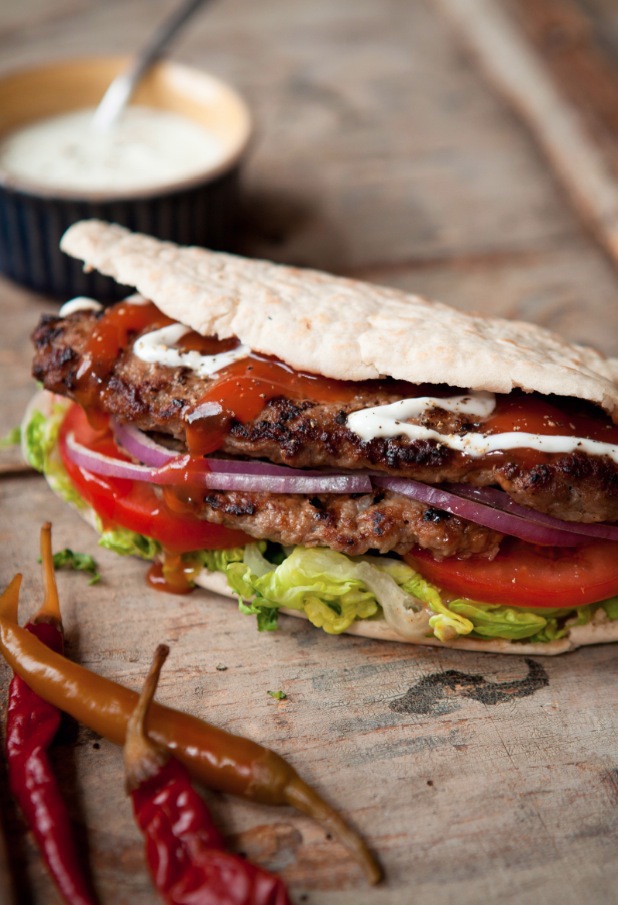 WRONG!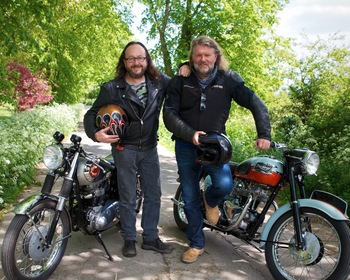 We're delighted to report that this lip-smacking little beauty contains no more than 361 calories and we bow in thanks to TV's favourite culinary duo, Si King and Dave Myers, aka The Hairy Bikers, who have invented it.
The Bikers-slash-Dieters (right) are back with another treasure chest of recipes showing you how to cook your favourite everyday food with all the flavour and much less of the calories.
This one, Dieter's Doner Kebabs is from their new book,
The Hairy Dieters' Eat For Life,
which is full of lower fat treats and a sequel to last year's No. 1 bestseller,
How To Love Food and Lose Weight
.
Dave and Si write: "They said it couldn't be done but here it is – our version of everyone's favourite post-pub food.
"These kebabs taste just like the real thing, but have fewer than half the calories!
"Make sure you fill your pitta with lots of salady bits for extra colour and crunch and don't forget the chilli soss!"
Ingredients
Kebabs
200g lean lamb leg steaks (probably 2 steaks)
200g lean minced lamb
½ medium onion, roughly chopped
1 tsp ground coriander
1 tsp ground cumin
1 tsp flaked sea salt
1 tsp plain flour
4 white or wholemeal pitta breads (each about 60g)
Oil, for spraying
Hot chilli sauce (optional)
Freshly ground black pepper
Garlic sauce
4 tbsp fat-free yoghurt
1 large garlic clove, crushed
pinch of flaked sea salt
Salad
2 large tomatoes, sliced
100g cucumber, sliced
Shredded lettuce,
Pickled chillies, finely shredded (optional)
White cabbage and red onion rings (optional)
Method
1
To make the garlic sauce, mix all the ingredients in a small bowl and set aside to allow the flavours to mingle.
2
Then trim the lamb steaks, removing any visible fat, and cut them into 3cm chunks. Put the lamb mince and steaks in a food processor with the onion, coriander, cumin, salt and lots of freshly ground black pepper. Blitz until as smooth as possible. You may need to remove the lid and push the mixture down a couple of times with a rubber spatula until it's the right consistency.
3
Divide the mince mixture into 4 balls. Cut a 60cm sheet of cling film and dust with ¼ teaspoon of sifted flour. Place a lamb portion on half of the film and fold the rest of the cling film over to cover it completely. Use a rolling pin to roll the kebab mixture thinly. Rolling this way will help stop the lamb sticking, but it will be delicate so take care not to roll it too thinly – about 5mm is just about right. Leave it inside the cling film. Do the same with the remaining portions of lamb.
4
Put the pitta breads on a baking tray and place them under a preheated medium grill – not too close – for 1–2 minutes on each side until hot. Keep warm. Mist a large non-stick frying pan with oil and place over a medium-high heat.
5
Lift the cling film off the top of a portion of lamb. Peel off the backing film and, holding the lamb on a spatula or over your hand, very gently and carefully place it in the hot frying pan. Do the same with a second piece of flattened lamb and fry both for about 1 minute on each side until lightly browned and cooked through. Flatten the lamb into the hot pan by pressing it with a spatula as the meat cooks. Put the lamb on a warmed plate and cook the other 2 portions.
6
Put the warmed pittas on a board and cut them open along one side, then fill with salad and the hot lamb. Spoon over the garlic sauce and chilli sauce too, if you like. Add a couple of pickled chillies for extra authenticity and serve!
Prep Time
20 minutes
Cook Time
5 minutes
Nutrition Information
Serves 4
361 calories per portion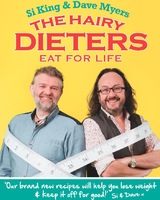 Recipe from THE HAIRY DIETERS EAT FOR LIFE by Si King & Dave Myers, on sale now and published by Weidenfeld & Nicolson in trade paperback at £14.99, eBook: £7.99
More Hairy Bikers' recipes
267 Calorie Speedy Chicken & Veg Pot Pie
Lower Calorie Cottage Pie
Thai Chicken & Coconut Curry
Home-made Chicken Tikka Masala