Scotch egg lovers, this one is for you! If you have ever fancied having a go at making your own yolky treats, then this classic recipe is easy to follow and will provide some egg-cellent results.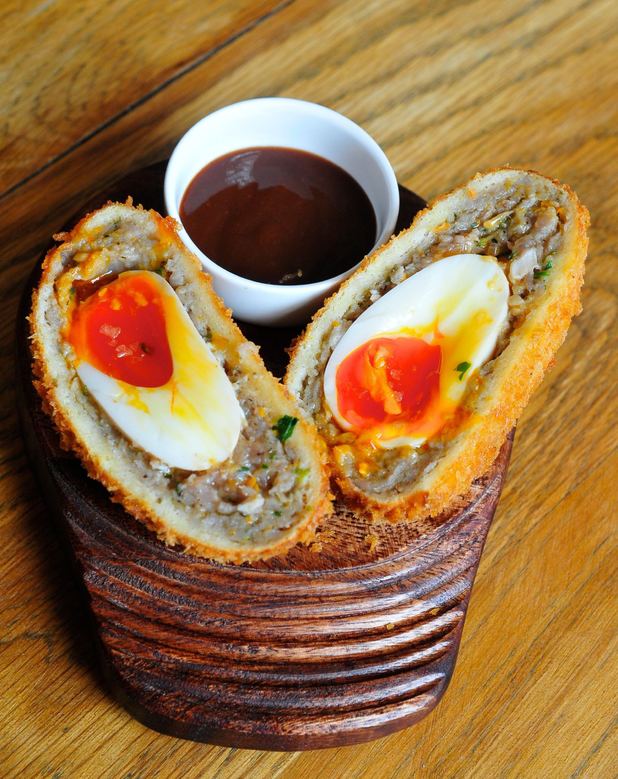 This recipe is courtesy of The Thatched House, Hammersmith, and The Scotch Egg Challenge 2013 which is taking place on 17th September at The Ship pub in London's Wandsworth.
This annual competition receives tens of entries from restaurants, pubs and chefs across the country to find the UK's best Scotch egg. This is one of their recipes - and it's hard to beat.
Ingredients
4 eggs – Cotswold Legbar/Burford Browns or similar high quality; free range
360g pork mince
2 banana shallots, finely diced
1 garlic clove, finely diced
50g carrot, finely diced
50g leeks, finely diced
50g celery, finely diced
1 teaspoon chopped sage
1 teaspoon chopped parsley
1 teaspoon chopped thyme
Salt and pepper
Japanese Panko breadcrumbs (enough to panné the eggs, coating evenly)
Plain flour (again, enough to panné the eggs)
Method
1
Finely chop carrots, onions, leeks and celery into a brunoise and then sweat them in a pan until soft.
2
Leave them to cool before adding them to the pork mince.
3
Mix the finely chopped sage, parsley and thyme with the pork, then season with salt and pepper.
4
Place each egg into a rolling boil for 5 ½ minutes before quickly submerging in ice cold water
5
Press 95g of mince flat in the palm of your hand then wrap around the egg. Flour it, then dip in egg. Coat with seasoned panko breadcrumbs and place in the fryer for 5 and a half minutes at 180C.
6
Remove and place in the oven at 180C for a further 5 minutes.
7
When ready, the mince should be cooked through and yolk should be fabulously runny.
Prep Time
30 minutes
Cook Time
10 minutes
Nutrition Information
Makes 4
The Scotch Egg Challenge 2013 will take place on 17th September at The Ship, Wandsworth in association with Action Against Hunger; followed by a three day online charity auction from midday on the 17th until midday on the 20th, when eggs-uberant Scotch egg enthusiasts can bid for their favourite yolky creations!For more news and updates on the Scotch Egg Challenge & Auction follow the action on Twitter at #ScotchEggChallenge @ACF_UK @ShipWandsworth.Love eggs? Try out these great recipes:
Posh Bacon & Eggs
Vegetarian Scotch Eggs
Spicy Indian Omelette
Spanish Style Eggs