This vegetarian pie is the perfect remedy for a cosy evening in and makes for a lovely hearty dinner. Chunky vegetables, crunchy chestnuts and melted cheese are combined for a rich and delicious filling.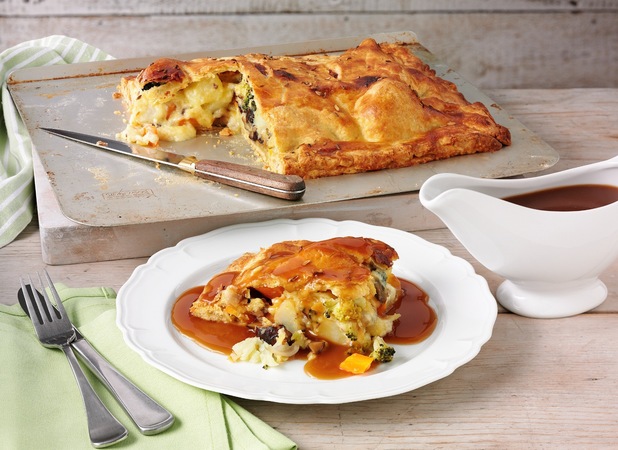 We also love the surprise twist that the pastry gives, thanks to the addition of yummy Parmesan cheese, which helps to create even more flavour. Douse with gravy and dig in!
Ingredients
2 tablespoons olive oil
3 shallots, peeled and thickly sliced
175g cooked carrots
175g new potatoes, cut into chunks
175g lightly boiled or steamed broccoli florets
200g cooked, peeled whole chestnuts, roughly chopped
175g grated Cheddar cheese
1 egg yolk
2 tablespoons Greek yogurt
Ground black pepper
300g Stork packet
450g plain flour
55g grated Parmesan cheese
Beaten egg, to glaze
1 teaspoon fennel seeds
1 Knorr Onion Gravy Pot
Method
1
For the filling, heat the olive oil in a large frying pan, add in the shallots and fry until softened. Add the carrots, potatoes and broccoli and fry, stirring, for 5 minutes. Remove from the heat and mix in the chestnuts; set aside to cool.
2
Mix together the Cheddar, egg yolk, yogurt and season with black pepper and set aside. Preheat the oven to 200c/ gas mark 6.
3
To make the crust, rub the Stork into flour until it resembles breadcrumbs. Stir in the Parmesan and enough cold water to mix to soft dough. Knead lightly on a floured surface until smooth.
4
Roll out half the pastry to a rectangle 30x20cm and lift onto a baking sheet. Spoon over half the vegetable mixture to within 2.5cm/1in of the pastry edges. Top with the cheese and yogurt mixture then the rest of the vegetable mixture.
5
Roll out the remaining pastry, dampen pastry edges and place over filling, pressing to seal the edges and form the pie.
6
Make 3-4 slashes in the top of the pie to allow steam to escape. Brush the pastry with beaten egg and sprinkle with fennel seeds.
7
Bake in the oven for 30-35 minutes until golden brown. Serve with Knorr gravy, made from a Knorr Gravy Pot.
Prep Time
45 minutes
Cook Time
40 minutes
Nutrition Information
Serves 8
Check out these other delicious vegetarian recipes:
Aldo Zilli's Aubergine Cannelloni
The Fabulous Baker Brothers' Vegetarian Scotch Eggs
Halloumi & Courgette Burgers
Cheesy Cheddar Pancake Lasagne