This classic dish is a comforting treat for autumn nights. It pairs juicy sausages with traditional Irish Colcannon – which is a yummy mix of soft potato, shredded cabbage and a drop of milk. Just the meal for a cosy night in.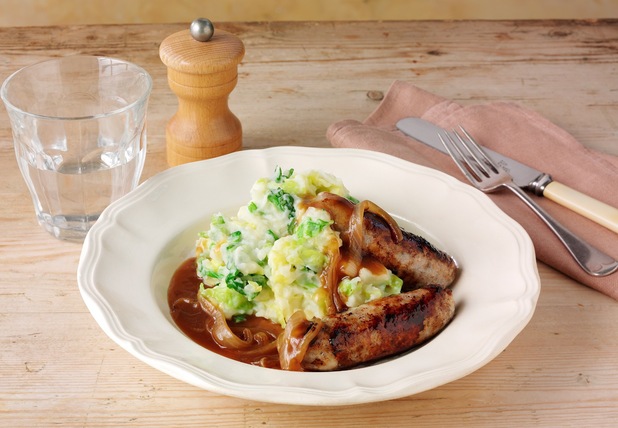 A firm family favourite, this is super easy to whip up as a mid-week dinner. Serve with lashings of gravy and enjoy.
Ingredients
8 sausages
1 medium onion, sliced
1 tablespoon vegetable oil
1 teaspoon Flora Cuisine
½ Savoy or spring cabbage, finely shredded
675g potatoes, peeled and chopped
100ml hot milk
Salt and freshly grounded pepper
1 Knorr Onion Gravy Pot
Method
1
Grill the sausages until cooked through, turning now and then to ensure even browning.
2
Meanwhile, cook the potatoes in boiling, lightly salted water until tender.
3
While the potatoes are boiling, cook the shredded cabbage in the Flora Cuisine, stirring often, until softened.
4
To make the colcannon, drain the potatoes, mash with the hot milk and season with salt and freshly ground pepper. Mix in the cooked, shredded cabbage.
5
Heat the oil in a frying pan; add in the onion and fry, stirring now and then, until lightly browned.
6
Serve the grilled sausages with the colcannon and the onion gravy made with a Knorr Onion Gravy Pot.
Prep Time
20 minutes, plus cooling
Cook Time
30 minutes
Nutrition Information
Serves 4
Try these recipes for more tasty suppers:
Cheesy Cheddar Pancake Lasagne
Sticky Vietnamese Pork Salad
Tandoori Style Salmon
Keralan Prawn Biryani