Can you eat pies and lose weight? Well the Hairy Bikers have come up with this amazing recipe for Chicken & Veg Pot Pies in their new book, Eat For Life.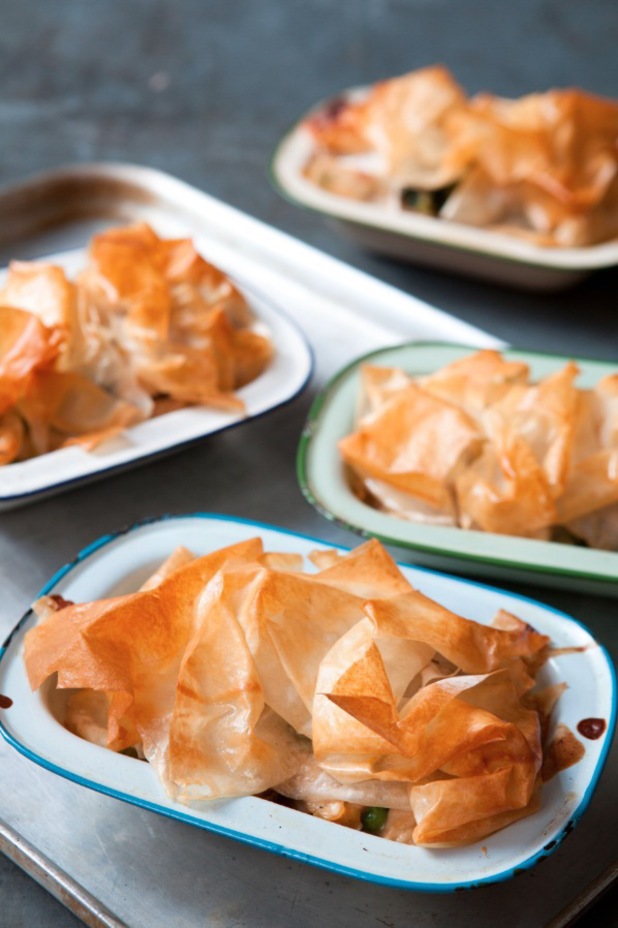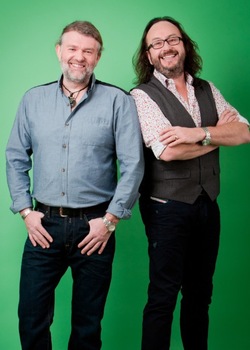 At just 267 calories per portion, they're comfort food you don't have to feel guilty about and a perfect recipe to rustle up now the nights are drawing in and getting cooler.
As Si King and Dave Myers (aka The Hairies, pictured right) say: 'We could never give up our pies and these little beauties are ready in no time.
'They're a great way to use up any lean cooked chicken you have left over from a Sunday roast too.
'Add a splash of white wine to the sauce if you like – a tablespoon will bring an additional 12 calories to the recipe.'
Eat For Life
is the sequel to last year's best-seller,
How To Love Food And Lose Weight
, and has more fabulous recipes of lower-cal versions of family favourites.
Enjoy!
Ingredients
2 rindless lean smoked back bacon rashers
Oil, for spraying
150g button mushrooms, wiped and halved
1 slender leek, trimmed and finely sliced
2 skinless boneless roast chicken breasts, cut into small pieces (about 200g), or lean leftover roast chicken
25g plain flour
500ml chicken stock, made with 1 stock cube
150g broccoli, cut into small florets
75g frozen peas
2 tbsp half-fat crème fraiche
3 sheets of filo pastry, each about 45g
flaked sea salt
freshly ground black pepper
Method
1
Preheat the oven to 220°C/Fan 200°C/Gas 7. Trim any visible fat off the bacon rashers and cut them into strips about 1.5cm wide. Mist a large non-stick saucepan with oil and place it over a medium heat. Add the bacon to the pan, then stir in the mushrooms and cook for 4 minutes, stirring regularly until they are beginning to brown.
2
Add the leek and chicken and cook for 1 minute more, stirring. Sprinkle over the flour and cook for a few seconds before gradually adding the stock, just a little at a time.
3
Bring to a simmer and season well with a pinch of salt and lots of freshly ground black pepper. Add the broccoli florets and peas and bring the water back to a simmer. Cook for 4 minutes, while stirring, until the sauce thickens, then remove from the heat and stir in the crème fraiche.
4
Divide the mixture between 4 individual pie dishes – each will need to hold about 350ml. Spray each sheet of filo pastry with oil and cut them into 4 wide strips. Working quickly, top each dish with 3 strips of the filo, oiled-side up, crumpling and scrunching them loosely as you go.
5
Place the dishes on a baking tray and bake the pies in the centre of the oven for 12–15 minutes or until the pastry is golden brown and the filling is hot and bubbling.
Prep Time
10 minutes
Cook Time
24 minutes
Nutrition Information
Serves 4
267 calories per portion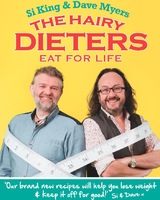 Recipe from THE HAIRY DIETERS EAT FOR LIFE by Si King & Dave Myers, published by Weidenfeld & Nicolson. On sale now in paperback at £14.99, eBook: £7.99
More Hairy Bikers' recipes
Lower Calorie Cottage Pie from How To Love Food And Lose Weight
The Hairy Dieters' Thai Chicken & Coconut Curry
Home Made Chicken Tikka Masala from the book Great Curries