Falafels are really tasty and super healthy, so when we came across this recipe for making your own, we couldn't wait to have a go!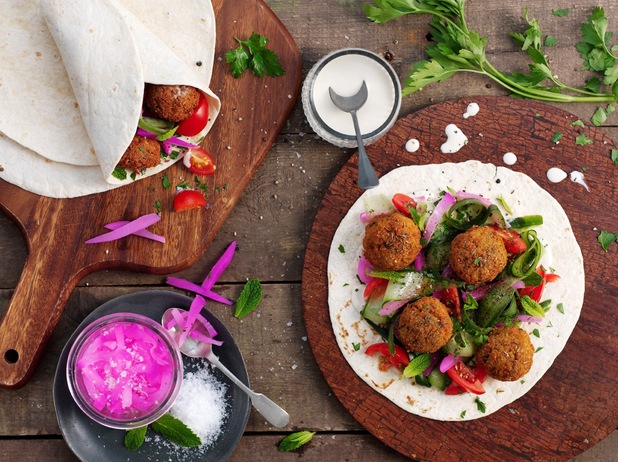 Originating from the Middle East, this traditional street food makes a great side or lunchtime bite.
Falafel blends ground broad (fava) beans and chickpeas with an array of fragrant spices, so it's a fab dish for veggies and very healthy, too.
Using this recipe you can whip up your own in 15 minutes - why not combine them with
this delicious recipe for Tabbouleh Salad?
Ingredients
100g ready to eat chickpeas in water, drained and rinsed
200g split dried broad beans (flava beans), soaked overnight, or 250g fresh broad beans
5 garlic cloves, crushed
Half a small onion, chopped finely
25g coriander leaves, chopped finely
25g flat leaf parsley, chopped finely
½ teaspoon cardamom, pounded, seeds removed
½ teaspoon cumin seeds
½ teaspoon ground cumin
¼ teaspoon cayenne pepper
½ teaspoon salt
½ teaspoon baking powder
100g sesame seeds
Sunflower oil for frying
Pitta bread for serving
Method
1
Combine chickpeas and broad beans with garlic, onion, parsley and coriander leaves.
2
Blend in batches in a food processor – keep it finely chopped, not mushy. If you have a mincer then use this and pass the ingredients through.
3
Add the spices, baking powder and 2 tablespoons of water and leave to chill in the fridge for 30 minutes to 1 hour.
4
Fill a heavy-based saucepan with sunflower oil or preheat your fat fryer to 180C.
5
Form the mix into golf ball size pieces and flatten slightly, dip and roll in sesame seeds to evenly coat each falafel.
6
Fry in 2 inches of sunflower oil, turning occasionally for a few minutes until golden brown, do not overcook. Place on paper towels to soak up any excess oil.
7
Serve falafel by itself or in a hot wrap or pitta bread with some fresh sliced tomato, pickled cucumber, crispy salad and tahini sauce or hummus.
Prep Time
10 minutes
Cook Time
5 minutes (plus chilling time)
Nutrition Information
Serves 6
This recipe was created by Gerard Murphy, the Consultant Chef at Just Falafel.More scrumptious salads to try:
Raymond Blanc's Rainbow Salad
Superfood Salad
Moroccan Potato Salad
Chicken Salad with a Twist