Thanks to The Great British Bake Off, baking is more popular than ever before, so take some inspiration from these amazing Muscovado Chocolate Cakes from chocolatier Paul A.Young.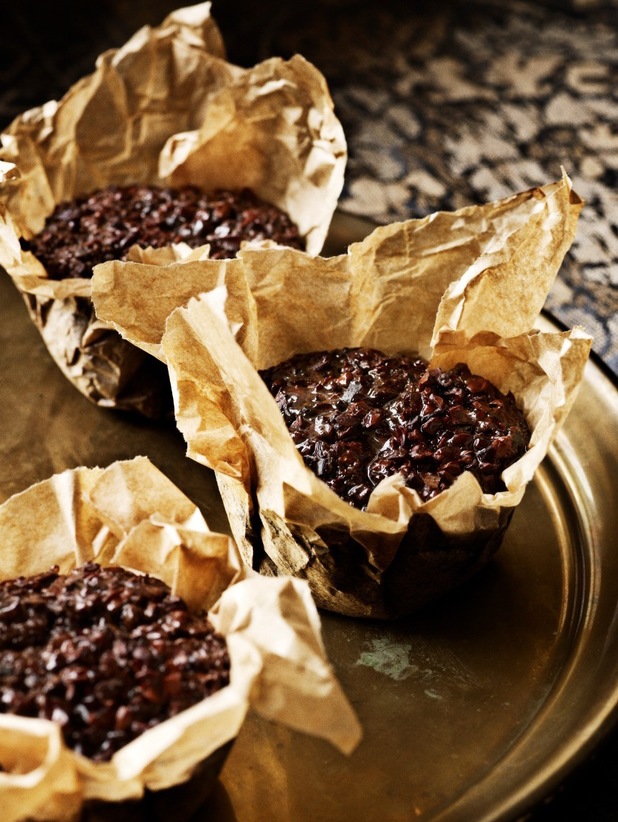 And, if you fancy yourself as the next Mary Berry, get yourself down to
The Cake & Bake Show
, next week. It's a live event packed with bake offs, celebrity demos and some great workshops to get involved with.
Chocolate master Paul
will be making an appearance at the show and we couldn't resist sharing this recipe from him. These Muscovado chocolate cakes with cocoa nibs combine a moist and sticky texture with crunchy nibs and sweet-spiced syrup. A real show-stopper for an afternoon treat or yummy dessert.
Ingredients
For the cakes:
115g self-raising flour
65g dark cocoa powder, the best quality you can buy
½teaspoon sea salt
185g unsalted butter
225g unrefined muscovado sugar
85ml double cream
2 medium free-range eggs
50g cracked cocoa nibs (you can buy these at health food stores like Holland & Barrett)
For the syrup:
200g unrefined golden caster sugar
½fresh nutmeg, grated
1 cinnamon stick, broken in half
¼teaspoon chilli powder
Method
1
Preheat the oven to 180ºC/350ºF/gas 4. Place the flour, cocoa, salt and butter in a large mixing bowl. Rub between your fingers until the mixture has the consistency of breadcrumbs. Add the sugar and mix well.
2
Fill a measuring jug with 85ml water, then add the cream and eggs. Whisk well and pour into the dry mixture. Mix until smooth.
3
For the cupcake cases, you can either use shop-bought paper cases or, for a more contemporary style, make them yourself using non-stick baking parchment: cut 15cm squares of parchment paper, scrunch them up tight in your hand, then open them out just enough to fit into your muffin tin.
4
Fill each case three-quarters full with cake mixture and sprinkle over plenty of cocoa nibs.
5
Bake for 12 to 15 minutes until springy to the touch. Remove from the muffin tin and place on a wire rack to cool.
6
To make the sugar syrup, bring 200ml water, the sugar and all the spices to the boil and simmer for 5 minutes.
7
Remove from the heat and allow to infuse for 15 minutes. Then strain through a sieve into a jug.
8
While the cakes are still warm, slowly and gradually feed each one an even amount of syrup until glossy, allowing the syrup to soak fully into the cakes. If serving as a plated dessert, save some syrup to drizzle over and around the cakes.
Prep Time
45 minutes (plus extra if making your own cupcake cases)
Cook Time
35 minutes
Nutrition Information
Makes 12
Try out these other delish chocolate recipes:
Mary Berry's Very Best Chocolate Fudge Cake recipe
Chocolate Layer Cake
Chocolate Mousse Melting Moments
Mini Lindt Chocolate Cupcakes
Mary Berry's Chocolate Brownies
Paul will be appearing at The Cake & Bake Show, 13-15th September, Earls Court. For tickets and more information, click here. Adventures with Chocolate by Paul A. Young (Kyle Books, £14.99) Photography: Anders Schonnemann.