Channel 4 TV chefs The Fabulous Baker Brothers have been busy creating some yummy recipes with mushrooms and this vegetarian version of Scotch Eggs is one of our favourites, so we're passing it on!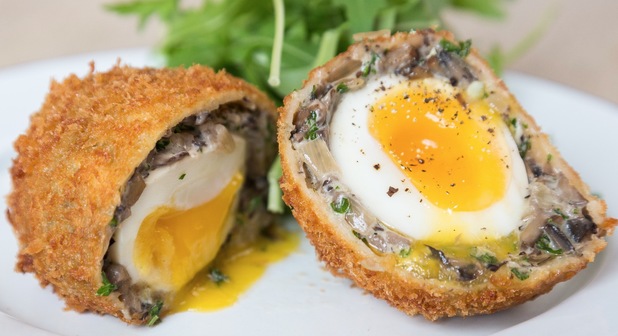 Doesn't it look good? All of us (including the meat-eaters in the office) have been drooling as we love the combo of mushrooms, shallots and cream cheese with the egg. Who needs sausagemeat?
And it's healthier too as mushrooms are packed with B vitamins, as well as being low in fat. Let us know what you think!
Ingredients
6 free range eggs
1 shallot, diced
300g chestnut mushrooms
20g butter
1 sprig of thyme
50g cream cheese
1 teaspoon chopped parsley
2 eggs
50ml milk
50g flour
100g breadcrumbs
Method
1
Bring a big pan of water to boil. Carefully lower in the eggs and cook for 8 minutes, they should be slightly runny in the middle. Run under a cold tap until they are completely cold and carefully peel off the shells.
2
Melt the butter in a pan and cook the shallots until soft. Finely chop the wild mushrooms and add to the pan. Thumb in the thyme, seasoning well and continue cooking until the mushrooms have darkened and most moisture has evaporated. Remove from heat and when cooled stir in the cream cheese and parsley.
3
In a piece of cling film pat out a piece of mushroom filling large enough to envelope an egg. Put the egg in the middle and using the cling film, fold the egg around it so it is completely covered.
4
Remove the cling film and mould with your hands so there is an even thickness all the way round. Repeat with all remaining eggs and put in the fridge to firm up.
5
For the coating, whisk the egg and milk with a pinch of salt.
6
Next, dust the eggs in the flour and shake off any excess flour. Then dip into the egg mix and mix through the breadcrumbs, dip back through the eggs and into the crumb mix.
7
Place into the fridge to firm up. Meanwhile, heat a fat fryer to 180 and brown each egg for 2 minutes. Place in an oven at 200 for 6 minutes and serve warm with a good chutney or garden salad.
Prep Time
20 minutes, plus cooling
Cook Time
30 minutes
Nutrition Information
Makes 6
For more mushroom recipes, head here.More veggie recipes:
Halloumi & Courgette Burgers
Quorn Tikka curry
Indian Cheese on Toast
Feed four for under £5 with this Potato Tortilla