If you fancy experimenting in the kitchen with something a bit different, why not have a go at making this recipe for Thai Prawn & Mushroom Tom Kha soup from TV's The Fabulous Baker Brothers?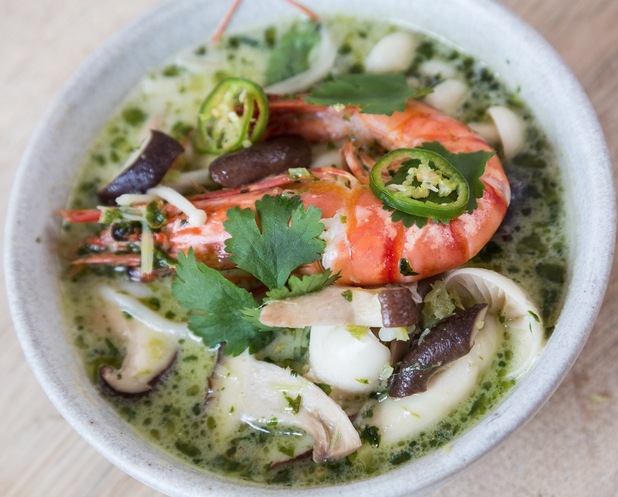 The talented TV chefs have teamed up with The Mushroom Bureau to encourage us all to use more mushrooms and we reckon this delicious, delicately flavoured soup is a great way to start.
Tom Kha Thai soup is packed with an array of spices and herbs, along with juicy prawns and plenty of mushrooms. It's pretty easy to put together and if you don't have time to make your own paste, just substitute for a good quality, shop brought one.
Ingredients
For the paste
30g pieces of galangal or ginger, peeled and roughly chopped
2 garlic cloves, peeled
1 stalk of lemongrass, bruised
Small bunch of fresh coriander leaves,chopped and roots reserved
2 shallots, peeled and quartered
1 medium green chilli, remove seeds first, then roughly chop
3 fresh or 6 dried kaffir lime leaves
2 limes, zest only
For the soup
400ml coconut milk
3 tbsp fish sauce
8 tiger or king prawns, shelled and de-veined
Handful of enoki mushrooms
Handful of shimeji mushrooms
4 shiitake mushrooms, chopped (or chestnut mushrooms if you can't find them)
100g noodles (Soba are nice)
1-2 limes, juice only, plus more to serve
Salt and pepper
Small handful of Thai basil leaves
1 green chili, sliced
Method
1
Blend the paste ingredients in a food processor until smooth and set aside.
2
For the soup, heat the olive oil in a large saucepan and fry the paste in it over a medium heat for 2-3 minutes.
3
Stir in the coconut milk and fish sauce, add the stock and bring to a simmer. Then add the prawns, mushrooms and noodles and allow them to cook in the broth for 5 minutes or until the prawns have turned pink and opaque and the noodles have cooked.
4
To serve, add the lime juice to the soup and season to taste with salt and pepper. Divide the drained noodles between four bowls and ladle over the soup.
5
Garnish with the Thai basil leaves, the coriander leaves and sliced chili. Squeeze over a little more lime juice to taste.
Prep Time
10 minutes
Cook Time
20 minutes
Nutrition Information
Serves 2-3
For inspiration on how you can use more mushrooms in your diet, check out the family-friendly recipes at
justaddmushrooms.com
Some other tasty recipes for you to try:
Nadia Sawalha's Creamy Mushroom & Bacon Pasta Bake
Easy Thai Prawn Curry
Tandoori-style Salmon
Quick & Easy Prawn Biryani