Looking for a delicious but easy treat to serve when entertaining? These apple and chicken quesadillas are a sure hit for satisfying peckish guests without you having to slave away in the kitchen.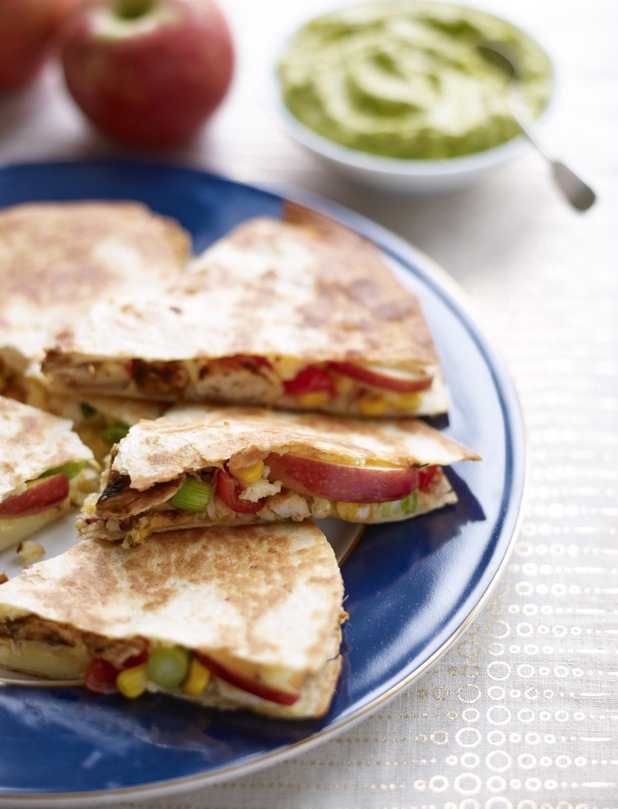 The recipe combines sweet Pink Lady apples, tender chicken breasts and authentic sour cream and guacamole for an irresistible Mexican snack. Once made, they can be chilled in the fridge for up to 24 hours, so they are great for pre party prepping.
Ingredients
For the chicken:
2 large skinless boneless chicken breasts (about 350g)
1 teaspoon ground cumin
1 teaspoon paprika
1 teaspoon dried thyme
Salt & freshly ground black pepper
2 teaspoons olive oil
For the guacamole:
2 ripe avocados
1 small clove garlic, crushed
Juice of ½ a lime, or to taste
A shake of chili sauce, i.e. Tabasco (optional)
1 tablespoon of finely chopped coriander
Salt & freshly ground black pepper
For the quesadillas:
6 large soft tortilla wraps
A small 120g tin of sweetcorn, drained (120g)
A handful of cherry tomatoes, quartered
3 spring onions, chopped
250g mature cheddar cheese, grated
2 Pink Lady apples, cored & thinly sliced
3 tablespoons of crème fraîche or sour cream
A little vegetable oil for frying
Method
1
Score the chicken breasts deeply two or three times and add to a shallow dish. Sprinkle over the spices and thyme and season with a little salt and pepper.
2
Drizzle over the olive oil and rub the chicken all over, working the marinade well into the cuts. Set aside in the fridge to marinate for a couple of hours, overnight is fine if you have time.
3
Make the guacamole by mashing the avocado in a bowl along with the rest of the ingredients. Season to taste with salt and pepper and chili and mix until you have a desired consistency, smooth or a little lumpy. Set aside.
4
Over a medium-low heat, add a little olive oil in a non-stick frying pan and fry the chicken on both sides until it is well cooked through – about 6-8 minutes on each side depending on thickness. Allow to cook a little and shred or chop into bite sizes pieces.
5
Lay out 3 tortillas on the worktop and scatter over the sweetcorn, tomatoes, and spring onions, along with the shredded chicken. Divide the cheese between the three tortillas and arrange the Pink Last apples on top.
6
Take the remaining three tortillas and spread the crème fraîche evenly between them. Lay on top of the filled tortillas and press down firmly making a sandwich. Chill until need to – up to 24 hours well wrapped in the fridge is fine – if you are cooking from cold you will need to add a couple of minutes to the cooking time.
7
Over a medium high heat, add a little oil in a frying pan large enough to fit the quesadilla in. When hot, carefully lower in a quesadilla and fry for 4-5 minutes until crisped up.
8
Using a fish slice, carefully flip over and fry for a further 2-3 minutes or so until crisp. Repeat with the other quesadillas, cutting into wedges when crisp. Serve whilst still warm.
Prep Time
5 minutes plus marinating time
Cook Time
6-8 minutes
Nutrition Information
Makes 18 wedges
Make sure you try out these other party recipes:
Mini mango trifles
Three ways with pickled onions
Louisiana Jam cocktail
Six ways with olives
Check out more recipes using Pink Lady apples
HERE